Tassajara Cooking, Edward Espe Brown (Shambhala, 1986)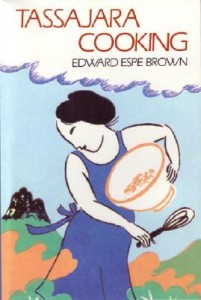 When it was first issued, Tassajara Cooking became an overnight classic. Edward Espe Brown's recipes for cooking—for learning to appreciate all the steps involved in making a meal, from selecting the ingredients to serving the finished dish—struck a chord with people who care about food and nutrition. This groundbreaking book, in a completely redesigned format, is just as timely and relevant today, more than thirty years later.
Brown discusses methods for working with vegetables, grains, beans, dairy products, and fruits; cooking techniques; and suggestions for planning good tasting, nutritious meals, from soups and salads to desserts. Generously seasoned with illustrations that detail every part of the cooking process, Tassajara Cooking is a comprehensive guide to inspired cooking, with joy.
Ed Brown began cooking and practicing Zen in 1965. He was the first head resident cook at Tassajara Zen Mountain Center from 1967 to 1970. He later worked at the celebrated Greens Restaurant in San Francisco, serving as busboy, waiter, floor manager, wine buyer, cashier, host, and manager.
Ordained a priest by Shunryu Suzuki Roshi, he has taught meditation retreats and vegetarian cooking classes throughout North America and Europe. He is the author of several cookbooks and the editor of Not Always So, a book of lectures by Shunryu Suzuki Roshi. He is the subject of the critically acclaimed 2007 film How to Cook Your Life.
Get your copy of Tassajara Cooking here. Indie Bound will connect you with an independent bookstore on the street or online where you can buy this book.