Designing America's Waste Landscapes, Mira Engler (The Johns Hopkins University Press, 2003)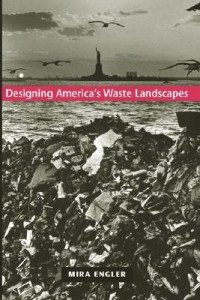 One of the most visible consequences of our society's breakneck level of production and consumption is the increasing amount of land designated as landfill and other waste disposal and processing sites. Often located in marginal areas or adjacent to politically and economically dispossessed communities, these places are usually ignored by mainstream society, as is the garbage that fills them. Even with the greater awareness of the problems of waste disposal inspired by recycling programs and anti-littering ads, we would much rather take the garbage out than think about where its going.
In Designing America's Waste Landscapes, landscape architect and scholar Mira Engler takes a close look at the landfills, recycling and waste transfer centers, and sewage treatment plants that accommodate and redistribute the by-products of consumption. For Engler, waste is not only a pervasive, essential, and constructive process of civilization; it is a key element in the way we consider, order, and shape our landscape. Yet the overwhelmingly negative, defensive perceptions we have of these places—and their marginalization within public debate—limits our ability to respond creatively and effectively to the growing problem of waste disposal.
Engler addresses two distinct aspects of waste landscapes in America: the historic and cultural context of waste and the theories, practices, and concerns of the planners, engineers, landscape designers, and other waste management professionals. She reviews the physical evolution of waste sites across the country, scrutinizes perceptions and representations of these landscapes, and highlights attempts by environmental designers and artists to change public perceptions. Illustrated with more than 70 photographs, maps, drawings, and other images, Designing America's Waste Landscapes is a cogent and compelling inquiry into the scientific, environmental, and aesthetic parameters of cutting-edge waste management technology and design.
Get your copy of Designing America's Waste Landscapes here. Indie Bound will connect you with an independent bookstore on the street or online where you can buy this book.