(Attend Organicology 2013 virtually here.)
Organicology – a "portmanteau word" meaning the study of organics – is the biggest conference/trade show focused entirely on organic seeds and produce in the country. This year more than 700 people attended the three-day conference that included a trilogy of key note speakers (Paul Stamets – Fungi Perfecti, Curt Ellis – Food Corps and co-creator of the movie King Corn, and Tom Philpott – Mother Jones), five daylong intensive sessions, 15 workshops, an educational (and practical) "seed swap," winter vegetable tasting, and a trade event featuring nearly 60 vendors.
All of this in uber-cool Portland, where the hotel is Green Seal Certified; all printed material was printed on recycled paper using non-toxic inks; all food service incorporated real flatware, glasses, mugs, and cloth napkins and linens; and "sustainable gleaning services" were provided by B-Line Sustainable Urban [Bicycle] Delivery. Shades of Portlandia!
Here are a few of the highlights from the event. It is impossible to be more than one place at the same time – darn the limitation of physics – so we had to skip some of the events. So much information, so little time!
Organic growing practices have been a strong part of food production here in the Pacific Northwest since the 1970s, and many of the growers, distributors, and retailers have worked closely for decades. Attend just a few food-related events in the area and you will see some of the same faces; we're all working to get good food from farm to plate.
Intensives: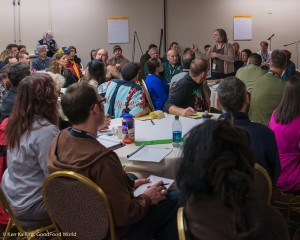 Challenges and Successes in the Organic Produce Department
What is the number one challenge that produce managers for natural food markets face? The balancing act between consumers' preferences for local and organic products. Actually, the real problem is balancing local AND organic with local OR organic.
Which is a better product? One grown organically within a fairly small radius (insert your number of miles here) from the point of sale; one grown organically outside that radius (or even outside the country); or one grown "locally" but conventionally?
Our vote is for organic products grown or produced locally (your radius here) or regionally. And if we must go further afield – say, for coffee or citrus – we're all for organic and fair trade.
Organic Seed Production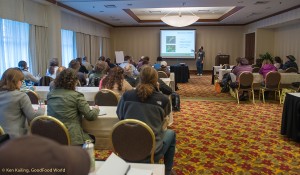 Seed breeding and seed production are hot topics at every Organicology. In fact, the interest in organic seed production is creating its own slate of "super stars:"
John Navazio, Seed Scientist at Organic Seed Alliance and Seed Specialist at Washington State University
Frank Morton, seed breeder/grower, Wild Garden Seed, Philomath OR
Steve Jones, Wheat Breeder, Washington State University
Matt Dillon, "Cultivator" for Seed Matters, and founder/past director of the Organic Seed Alliance
Let us not forget all the growers and students (undergraduate and graduate) who are doing their part to insure that we have good quality, highly diverse, organic seeds available into the future.
You haven't really enjoyed a demonstration until you've seen Frank Morton unload, set up, lay out, and "shake, rattle, and roll" an amazing selection of low cost, hand-made, or scavenged tools that make it possible for the small volume seed grower to market heritage, heirloom, landrace, or personally developed seeds to growers and home gardeners. And his sage advice about all types of chaff, dirt, immature seeds, and other unpleasantness that gets into the tubs and bins of seeds? Priceless!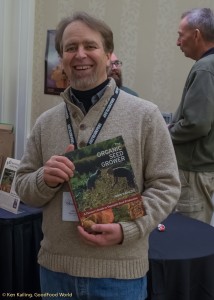 As they say at Seed Matters:
We probably don't think about it when we sit down to eat our cereal in the morning or tuck the kids into cotton sheets at night, but it all starts with seed. Seed matters. And the seed we sow affects the quality, nutrition, cost and environmental impact of all the food we eat and every fiber we wear.
And yet, today's farmers don't have access to sufficient seed developed for organic systems. Worldwide, 95% of organic farmers rely on seed bred for conventional, high-input chemical agriculture. There's an alternative. Organic plant breeding can increase yields, improve nutrition, and reduce usage of pesticides, fertilizer, and energy.
John Navazio reminds us in his new book, The Organic Seed Grower, "There is a growing awareness among many organic vegetable farmers that we need a reliable supply of high-quality organic seed that's truly adapted to the challenges found on organic farms." Get a copy of his book and you'll find out why more and more regional seed companies are looking for dedicated seed growers to ensure a reliable source of organically grown seeds for their farmer and gardener customers.
The Next Generation of Organic Leaders
Referred to as "The Elders Meets the Next Generation" by those who are part of the "founding generation" of organic leaders, this very inspiring – and, yes, intense – intensive, laid the groundwork for passing the baton to a room full of enthusiastic young – and sometimes, not so young – folks.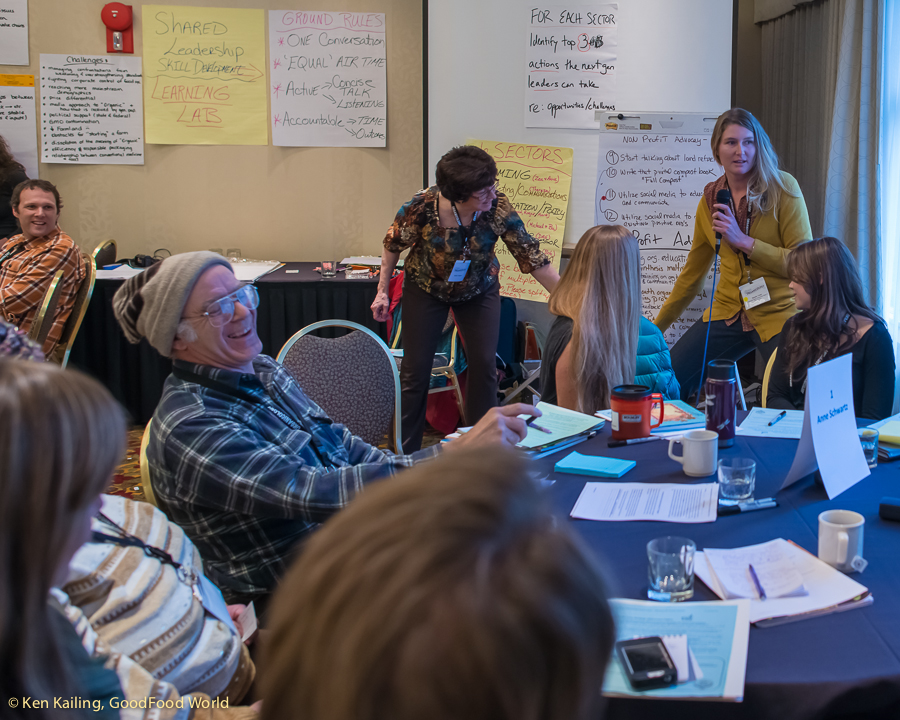 The self-referenced "Council of Elders" includes a few super stars too:
Anne Schwartz, Blue Heron Farm, representing Washington Tilth Producers Association
David Lively, Organically Grown Company
Roger Blobaum, Organic Research Coordinator, The Ceres Trust
Theresa Marquez, Organic Valley
We give a tip of the hat to Mark Musick – also in attendance at Organicology – who has steadfastly worked behind the scenes for four decades – since the very beginning of the organic movement (read more about Mark here).
And – with apologies to the room full of folks too numerous to list – the "brain trust" in this intensive included so many terrific people!
Workshops
The fifteen workshops covered a wide range of topics, from starting, financing, and running an organic farm to organic seed and grain production to policy and business issues such as genetic engineering (as in how to deal with it), food safety policy, and responsible packaging.
Just Plain Cool Stuff
Seed Swap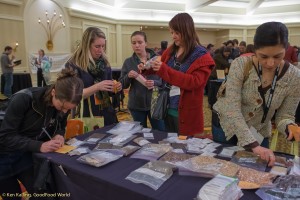 Arrayed around a ballroom were a dozen or so tables manned (or womanned) by seed producers or marketers of all sizes. And a crowd of hovering, inquisitive farmers and gardeners soon developed around each one.
Advice about seed saving and proper cultivation was freely offered, as were small packets of seeds to anyone who was willing to plant them and – we hope – collect the seeds for next year. After all, for thousands of years farmers saved the best portion of their seeds to plant the following year; it is just in the last 60 years or so that we've lost the art. And only in the last two decades that we've given control over something as basic as seeds to patents held by companies like Monsanto.
Spirits (as in wine, beer, and liquor) and Winter Veggie Tasting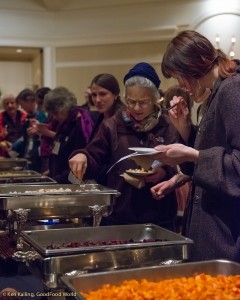 We're used to folks taking a sip of wine, beer or spirits and pronouncing on the flavor, bouquet, "nose," etc., but have you ever heard someone do the same with a vegetable? Phrases like, "hints of honey, very fruity, mild yet smooth," were not used to describe a regional wine, but regional root vegetables!
So who needs wine? Try a steamed rutabaga instead! The idea was to get the true flavor of the vegetable to appreciate the way locally grown organic food actually tastes.
Spread in buffet warmers down rows of tables were variously colored carrots, beets, rutabagas, turnips, and black radish. I've discovered I ADORE root vegetables – so good and so good for me!
And, yes, there was artisan and organic wine and beer there to wash it all down, though I did have to pass on the spirits – too much of a good thing!
Entertainment
A movie – Harvest of Pride, a dance (the band: The Pheremones), Karaoke from Hell ('nuff said), Speed Networking (trust me, it was FAST!), the Festival of Debate (always a favorite!), and this year, the Portland Flamenco Dancers. Absolutely something for everyone!
A Bit of History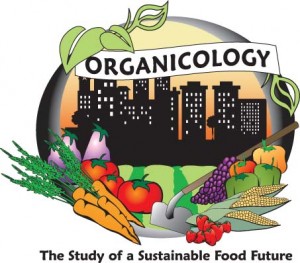 Founded in 2009, as a collaboration between Oregon Tilth, Organic Seed Alliance, the Food Trade Sustainability Leadership Association, and Organically Grown Company, Organicology is the only gathering of its kind that provides an in depth and interactive appraisal of a sustainable food future across the organic sector from seed to table to Capitol Hill.
In an event held every two years, Organicology offers curriculum designed to advance trade knowledge across a broad front. Seed producers, farmers, distributors and retailers, researchers and educators, chefs, food policy activists, and, of course, eaters of great food – all find topics of interest and sources of inspiration.
As we import more and more of our food – 103 billion pounds in 2011 of food stuffs in these 12 categories: meats, fish and shellfish, dairy, vegetables, fruits, nuts, coffee and tea, cereals and bakery, vegetable oils, sugar and candy, cocoa and chocolate, and other edible products – we are exporting our agriculture and our food preparation/processing skills. We are literally losing touch with the sources of our food.
We are allowing big food "manufacturers" to pile more and more complex "edible food-like substances" in our grocery carts. Those pseudo-foods – primarily made of sugar, salt, fat, and artificial colors, flavors, and preservatives – are slowly killing us by contributing to dozens of "lifestyle" diseases.
We are not only poisoning ourselves we are poisoning the environment! In 2007 (the latest data available), roughly 877 million pounds of chemical pesticides and nearly 23 million pounds of "plant nutrients" (synthetic fertilizer) were applied to U.S. cropland. These chemicals were applied to 406.4 million acres of cropland. Well, actually, you need to subtract the 2.3 million acres that were in organic production that year.
Given the tradition of good food and good food workers in the Pacific Northwest, Organicology is just one way we are trying to hold our food system together and stay healthy.
Take Aways
Good food – good organic food – is a treasure that we must all nurture and protect. Big Ag and Big Food are trying their best to take us away from real food, food that our grandparents and great grandparents recognized.
Organic seed is absolutely necessary to protect biodiversity and to allow farmers and gardeners to grow robust, good tasting fruits, vegetables, and grains using organic production methods that don't require synthetic pesticides and fertilizers.
A generation of dedicated pioneers have worked hard to make the world a better place by transforming agriculture; there is a new and just as passionate generation ready to take up the baton.
If you live anywhere within reach, sign up for Organicology 2015 – it promises to be educational, intellectually stimulating, and an all 'round good time.
Keep an eye on the Organicology website for news of the upcoming 2015 gathering. See you next time 'round! Here are a few photos from Organicology 2011, in case you missed out.