"We abuse our food because we regard it as a commodity belonging to us. When we see our food as a community to which we belong, we may begin to use it with love and respect."
(Modified from The Sand County Almanac, with apologies to Aldo Leopold.)
Foodopoly: The Battle Over the Future of Food and Farming in America, Wenonah Hauter (The New Press, 2012)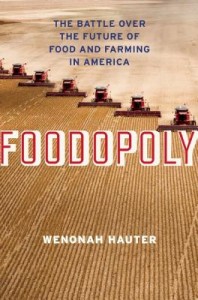 A slight woman with a well-modulated voice, Wenonah Hauter, executive director of Food and Water Watch, is not an imposing figure when she takes the stage to talk about her book, Foodopoly: The Battle Over the Future of Food and Farming in America. Hidden behind that modest façade is a woman who clearly has the conviction and strength to buttonhole any legislator, CEO, or banker. If necessary, she would probably back a congressman into a corner or follow him through the men's room door to make a point.
In her book, Hauter goes beyond simple lists. She has carefully researched and identified the many links between Big Food, Big Ag, a variety of non-profit food-related organizations (many of which are trade associations with strong lobbying arms), special interest funded university agriculture research, and the banking and investment community. It is this "good old boys' network" – and it is still mostly men – that controls the global food system.
Foodopoly is a text book for anyone who wants to take a crash course in today's food system: how we got where we are, who are the biggest players, and how today's food system is jeopardizing the health of consumers – from junk food to poor food safety – and the health of food workers.
Ms. Hauter also provides a detailed history lesson describing the decades of carefully planned destruction of any government regulation or program that provided any support for stable prices and a competitive market for agricultural products.
The key industrial groups that we have labeled Big Food and Big Ag are now being joined by "Big Org:" a combination of food companies that have acquired smaller organic food companies to "round out their product portfolios" and industrial organic growers that rely on the same corporate production and labor management systems as their conventional counterparts, just without the use of synthetic chemicals in the growth, processing, or manufacturing steps.
Read this book carefully and by the time you get to page 276, I predict you will first throw the book at the wall. Then you will look carefully at the food in your refrigerator and pantry to learn exactly who is controlling it. Finally, you will take up the challenge to get small and mid-sized farmers back on the land and get good, healthy food back on the table.
Wenonah advises us to "Eat and Act [O]ur Politics." We can't simply shop our way into a sustainable food future, we need to advocate for a better, equitable, functional food system by balancing our food choices with political action at the local, state, and federal levels.
"A lot of times people believe that growing their own vegetables or helping new farmers transition to organic is going to change our food system without changing our food policies," says Ms. Hauter. "We have to do all of it. We also need people who care about good food to take action and create a dialog about these bigger structural issues."
What can you do?
Yes, you can buy local and buy organic, thus providing a market for the farmers in your regional to sell their products. You can pressure your Congressmen and Congresswomen – and the President – to strengthen the anti-trust regulations, to pass a strong Farm Bill, to insist on safe food, and to require food labeling that will identify not only the nutritional contents and any genetically engineered ingredients, but also country of origin.
And you can encourage your local officials to rebuild local and regional food systems that will include the distribution networks needed to get food from rural and suburban farms into city markets and onto the tables of urban residents.
We can no longer ask the farmer to take less and less pay for the products of his labor, instead we have to develop and support programs that will improve income levels so that all people can afford good food, not just a privileged few.
At GoodFood World, we believe that the more you know about the people who are working to bring good food to your table, the better prepared you will be when you advocate for a fair and equitable food system!
Bluebird Grains, Winthrop WA, has taking control of its own distribution network to get grain products to Puget Sound customers. Sam and Brooke Lucy not only plant and grow organic grain; they reap, thresh, mill, package, market, and sell it. Brooke has developed an entire line of products that incorporate whole grain berries, cracked grains, and fresh milled flour, including breakfast cereals, pilaf, and pancake and biscuit mixes.
While the Lucys do sell into local supermarkets and food co-ops through a distributor, they sell direct to consumers through a CSA program and a monthly stand at selected Puget Sound farmers markets.
As a small – but growing – producer of grain products, Bluebird Grains demonstrates that it is possible – with hard work, perseverance, and a bit of luck – to bring products to market outside the "conventional" food supply system.
Get your copy of Foodopoly here. Indie Bound will connect you with an independent bookstore on the street or online where you can buy this book.