Biodiversity in Agriculture, Edited by Paul Gepts, and others (Cambridge University Press, 2012)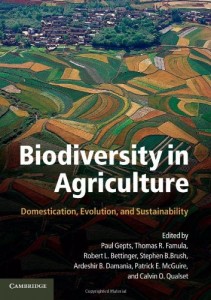 The introduction of plant and animal agriculture represents one of the most important milestones in human evolution. It contributed to the development of cities, alphabets, new technologies, and ultimately to civilizations, but it has also presented a threat to both human health and the environment. Bringing together research from a range of fields including anthropology, archaeology, ecology, economics, entomology, ethnobiology, genetics and geography, Biodiversity in Agriculture addresses key questions relating to agriculture.
Why did agriculture develop and where did it originate? What are the patterns of domestication for plants and animals? How did agroecosystems originate and spread from their locations of origin? Exploring the cultural aspects of the development of agricultural ecosystems, the book also highlights how these topics can be applied to our understanding of contemporary agriculture, its long-term sustainability, the co-existence of agriculture and the environment, and the development of new crops and varieties.
Get your copy here. Indie Bound will connect you with an independent bookstore on the street or online where you can buy this book.