It's hard to stick to a diet around the holidays. I don't even bother trying to count calories, but I do aim to eat sweets that are more wholesome indulgence than bodily poison. That means steering clear of high fructose corn syrup and the modified oils and starches you find in packaged foods.
Easy to do if you make it yourself, right? So in the spirit of Christmas and in the name of baking from scratch, here are some tips for making the most wholesome sweets. (And saving money too!)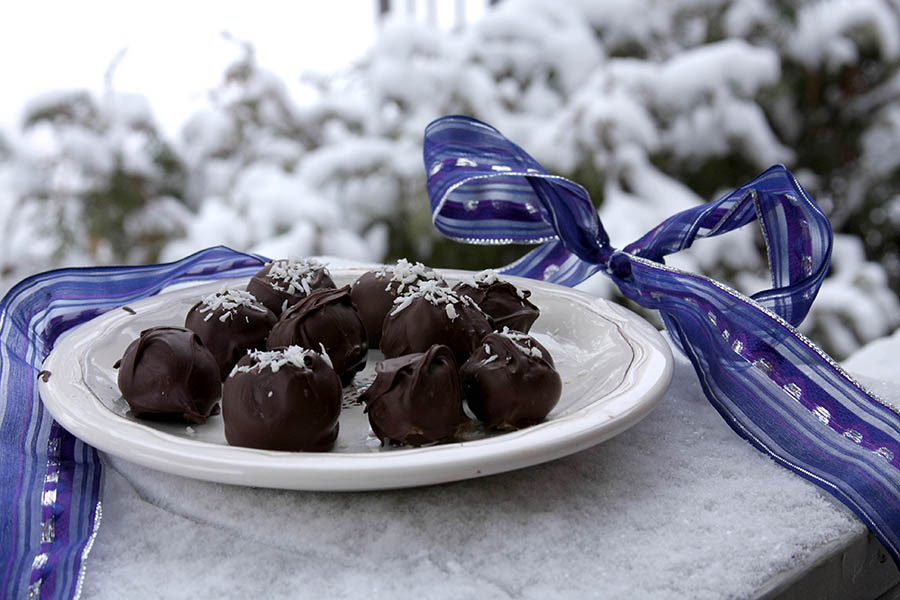 (To get you started here's a simple recipe for Chocolate Cherry Macaroons.)
Things you don't need in your kitchen this Christmas:
Sprinkles, food dyes, and colored candies
All the best (flashiest) things for decorating a gingerbread house are also some of the worst things to put in your body. The petroleum-based dyes used to make these foods have been linked to allergies, hyperactivity in children, and cancer. Skip conventional food coloring!
You can make a really beautiful gingerbread house  with natural ingredients. So opt for healthier alternatives – chopped or whole nuts, berries, pretzels, natural fruit snacks and licorice, banana chips, etc.
If it's your job to stuff the stockings this year, you might consider trading candy bars for more healthy fare. As a kid I couldn't wait to dig into my stocking on Christmas morning, and while my parents weren't averse to candy canes, they mostly filled it up with healthy snacks and little trinkets. I'd find little sacks of walnuts and cashews, a small bottle of juice, and in the toe of my stocking an apple or an orange. It's a great way to sneak in a healthy breakfast too!

Specialty organic items
You might be able to find organic cookie sprinkles and organic food coloring, but odds are you won't be able to afford them. Organic corn syrup costs twice as much as regular. (Skip it! Use honey.) And organic food coloring costs $18 for three small bottles! Decorate cakes and cookies with things like mint leaves, berries, pomegranate seeds, cinnamon, nutmeg, and powdered sugar. It's classy and all natural.
Powdered sugar
If you buy powdered sugar in bulk you'll save some money and waste less in packaging. But the kind of powdered sugar you'll find is likely just the same as the conventionally processed kind. It's refined and bleached, with a little cornstarch added to prevent caking.
If you have organic, unrefined sugar at home, you can make your own powdered sugar: just put 1 cup of it in an electric coffee grinder or food processor and pulse a few times.
Brown sugar
The same goes for brown sugar.  At my local health foods store, they stock C&H brown sugar in bulk. It's been stripped of molasses, refined, and then mixed again with molasses. (Don't ask me why, I don't get it either!) You might as well make your own.
Add 1 tablespoon of unsulfured molasses to 1 cup of unrefined cane sugar and fluff with a fork until well combined. For a darker brown sugar, use 2 tablespoons molasses.
Sweets from the grocery store or bakery
If you're short on time and have the money then of course it's wonderful to support a local bakery. But it doesn't quite send the same message as home-baked goods.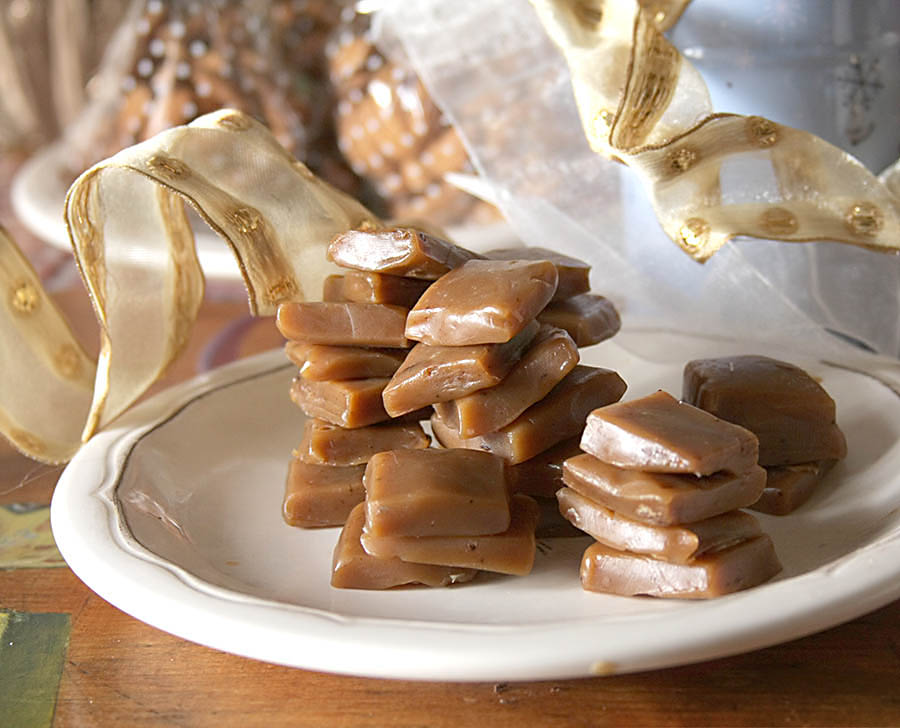 (Make these yummy caramels, the recipe is here.)
More tips for saving time and money:
Buy in bulk
Jars of spices can be quite expensive. If you're only using a teaspoon or two, there's no sense in buying a large amount. Most bulk foods stores have little baggies for that sort of thing. And it goes for other items too – when butter is on sale, I buy a bunch of it and store it in the freezer. If you need to defrost or soften butter quickly, cut it into little pieces and set the cutting board in a warm place for ten minutes.
Bake in bulk
Better than making many small batches of different things, think big. A huge batch of cookies, a big pan of brownies – distributed among friends and family – can go a long way as a cheap gift and save you time.
Substitute ingredients
Find cheaper ingredients that act the same way in a recipe. If a recipe calls for buttermilk but I don't have any in the fridge, I like to mix ½ cup plain yogurt or sour cream + ½ cup milk and call it buttermilk. Otherwise, you can add 1 tablespoon of vinegar or lemon juice to a cup of milk. Stir and let it sit a few minutes before using it in your recipe.
If a recipe calls for cake flour, there is no need to go out and buy specialty flour. Cake makes for very moist and delicate baked goods; it's low in protein, finely ground and typically bleached. But you can use unbleached flour to get the same effect with this simple trick:
For every cup of flour in your recipe, replace 2 tablespoons of the flour with 2 tablespoons of corn starch. For example, if you need 2 cups of cake flour, you'll mix 1 ¾ cup all-purpose flour (2 cups – 4 tablespoons or ¼ cup) with ¼ cup corn starch. It's simple, but takes a bit of math (remember 1 cup = 16 tablespoons). Sift the two together before using them in a recipe.
Remember not to worry too much about everything you eat this Christmas – the holidays are a time to indulge. But I also see it as an important time to be mindful about the content of our food, because it's a time for sharing and passing on traditions. I'm not going to pass off a plate of cookies as health food, but I'll let my friends know that they're made with the same love and care as any farm-to-market meal.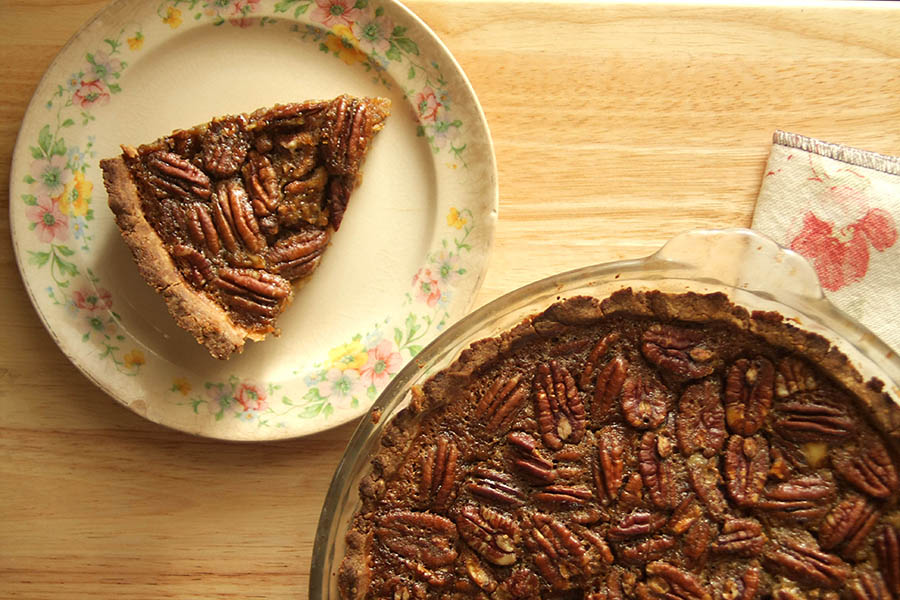 (Try this recipe for pecan pie, it's a winner!)
Photos: © 2012, Kate Hilmer