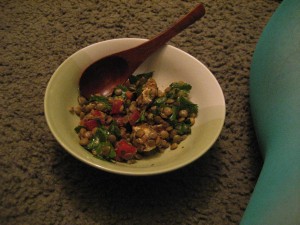 French lentils differ from brown lentils, as they are smaller and denser. They hold their shape better, making them the perfect choice for summer salads, rather than soup.
Puy Lentils – also known as "Lentilles Vertes du Puy" have been produced in the area of Le Puy en Velay, in the Auvergne region of France, for more than 2,000 years now. This gourmet French product is renowned worldwide for both its culinary and healthy qualities. In France, they are traditionally cooked in broth or water with a bay leaf, a single whole clove, and a tablespoon of cognac! Together these subtle flavors create a sweet and deep base-note of flavor.
This recipe, which I adapted from The Greens cookbook, utilizes the bay leaf in the cooking. Fresh mint adds cooling summer sweetness as well as the roasted red pepper. This recipe is a winner… and holds up well in the fridge for 3 days. (Probably longer but it's never lasted more than that for me to know!) It's a great meal when served with hard boiled eggs, tomatoes, olives and salad greens.
INGREDIENTS
1 ½ cups small French lentils
1 medium carrot, peeled and diced
½ small onion, finely diced
1 bay leaf
1 clove garlic, finely chopped
½ tsp. salt
2 medium red peppers
2 TBS fresh mint, chopped (used 1 TBS dried if fresh not available)
2 TBS chopped parsley
1 tsp mixed marjoram and thyme (or 1 TBS fresh)
Black Pepper
6-8 ounces feta cheese (I prefer goat feta)
Sherry or vinegar to taste
Lemon Vinaigrette (see below)
Rinse the lentils, cover them generously with water, and bring to a boil with bay leaf, carrot, onion, garlic and salt. Lower flame and simmer about 23 -26 minutes. The lentils should be tender, just a bit firm, and still hold their shape. Drain (and save/freeze the liquid for soup stock if inclined).
While lentils are cooking, roast red peppers in 400 degree oven until evenly charred and puffy (about 20 minutes). Take out and let sit whole for 10 minutes. They'll continue to steam and collapse. When cool, remove skins. Do not rinse them under water, or the flavorful juices will be lost. Slit open and remove seeds and veins. Cut into small squares and set aside.
LEMON VINAIGRETTE
Juice of 1 large lemon and grated peel of ½ lemon
¼ tsp paprika
1-2 cloves garlic, minced
Dash of cayenne pepper (or more to taste)
¼ tsp salt
4 TBS virgin olive oil
In small bowl whisk together lemon juice, olive oil and other ingredients. Gently fold it into the warm lentils.
Add herbs, mint, black pepper and red peppers. Mix gently. Crumble feta cheese gently and stir into lentils. Taste and season with salt if needed.
Cool in fridge or serve immediately. A drop of vinegar may be added before serving to brighten flavors.
Serves 4 to 6
Photo credit: adaenn (used with permission under Creative Commons license)