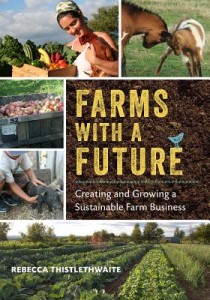 Farms With a Future, Rebecca Thistlethwaite (Chelsea Green Publishing, 2012)
The world does not need yet another "Hey-Guys-Farming-Is-So-Much-Fun-Let-Me-Teach-You-How-To-Be-A-Farmer" or another "Here-Are-A-Bunch-Of-Successful-Farmers-You-Can-Do-It-Too" book, thank you very much! In fact, we have 9 books for budding farmers on GoodFood World already*.
Behind a cover that resembles so many other "So-You-Want-To-Be-A-Farmer" books, Rebecca Thistlethwaite, has put together a carefully thought out course for entrepreneurs of any age that want to start a business called a "Farm."
Rebecca has been there, done that, yet her book offers something more than happy encouragement. By looking at farming without rose-colored glasses, she takes a clear-eyed hard look at the reality of farming.
She treats farming as a business with systems, efficiencies, costs, and income; with functions like pricing, marketing, branding, and sales. And, as any entrepreneur will tell you, Rebecca advises that you plan, plan, plan, and then DO. Still while planning is critical, don't get hung up in the "Ready Aim Shoot" problem; you can plan yourself right out of taking action.
In Farms With a Future, each chapter addresses a different business issue and ends with a case study, an example of a small operation putting the solutions outlined in place – successfully. Learn from those doing it right!
If you want to start a food production business, read all the other books you can find offering advice or introducing successful farmers, then read Farms With a Future to start a real business growing, producing, processing, and selling good food.
Get your copy here. Indie Bound will connect you with an independent bookstore on the street or online where you can buy this book.
Please take special note of the case studies, especially those highlighting GoodFood World producers:
Crown S Ranch, Winthrop WA – Chapter 7, page 122
Bluebird Grain Farms, Winthrop WA – Chapter 8, page 150
Amaltheia Dairy, Belgrade MT – Chapter 10, page 200
*GoodFood World reading list:
Organic Farming for Health and Prosperity
The Urban Farm Handbook
The Organic Farmers Business Handbook
Deeply Rooted: Unconventional Farmers in the Age of Agribusiness
Growing Roots: the New Generation of Sustainable Farmers, Cooks, and Food Activists
Farm Together Now
Growing a Farmer: How I Learned to Live Off the Land
Your Farm in the City: An Urban Dwellers Guide to Growing Food and Raising Animals
City Goats