It's only recently that I started to become enthusiastic about Brussels sprouts (and for the longest time I thought it was "Brussel" sprout). They're up there with Lima beans on the list of vegetables people tend to despise. I had to find out if they were really so bad – how could they be, when they look so adorable? Just like teeny cabbages really.
That's no surprise considering they come from the same family as cabbage, broccoli, cauliflower, and kale. They're known as cruciferous vegetables and they're elevated to a sort of superhero veggie status based on their high amounts of vitamins, minerals, and phytochemicals. According to the National Cancer Institute, the compounds in these plants are anti-inflammatory, antiviral and antibacterial, along with other properties that may help to prevent cancer. They're also high in fiber and low in fat and calories.
If we ate several servings a week from this group, we'd probably all be better off.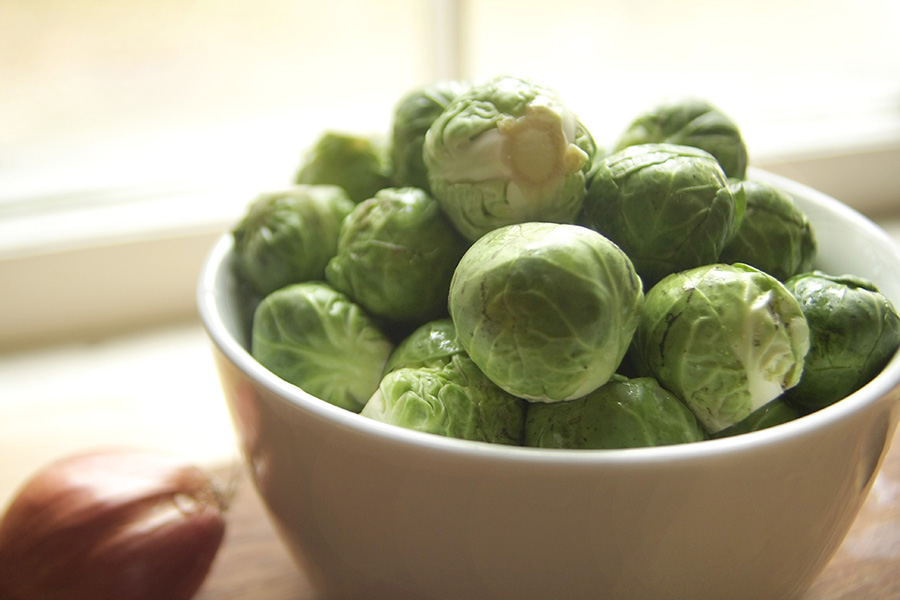 And the actual plant is really awesome… just Google images "Brussels sprouts" to see. The sprouts are actually little buds that grow in clusters along a big thick stem. I don't know what happens to the stem, but these little buds are harvested for eating. The smaller they are, the sweeter and more tender.
If you have tried them and hated the taste, then you're probably not convinced. But I will urge you to try them again, because with the right treatment Brussels sprouts can be made into a delicious dish.
Unfortunately, there aren't a lot of cookbooks out there with a wealth of recipes on how to cook Brussels sprouts. But I knew if anyone could make this reject vegetable glamorous, it would be Mollie Katzen. She's the vegetable queen of professional cooking (having written such books as Moosewood Cookbook, The Enchanted Broccoli Forest and Vegetable Heaven) and a national authority on nutrition. But besides that, her recipes are always tasty.
Mollie Katzen suggested cooking them with shallots and mustard – in a recipe she says has converted many a stubborn Brussels sprouts hater. Having tried it myself on several occasions, I can attest to its tastiness. I've copied her recipe below with only slight modifications… out of her cookbook Get Cooking.
The shallots are a subtler alternative to onions and garlic. They're distinct and sweet but not overpowering. I treat them pretty much like onions, and if you don't have or can't find a shallot then a sweet onion will do.
Other flavors that are recommended with Brussels sprouts: bacon, butter, caraway, chives, cream, garlic, horseradish, mace, and nutmeg. To retain the most nutritional value, you should braise, steam, or stir-fry rather than boil them. Store the raw sprouts in a bowl or a perforated bag in the fridge. They last quite a while after they're picked, but (so I hear) their flavor intensifies the longer they're kept. If you have extra shallots, keep them in the same cool dark place you keep your onions.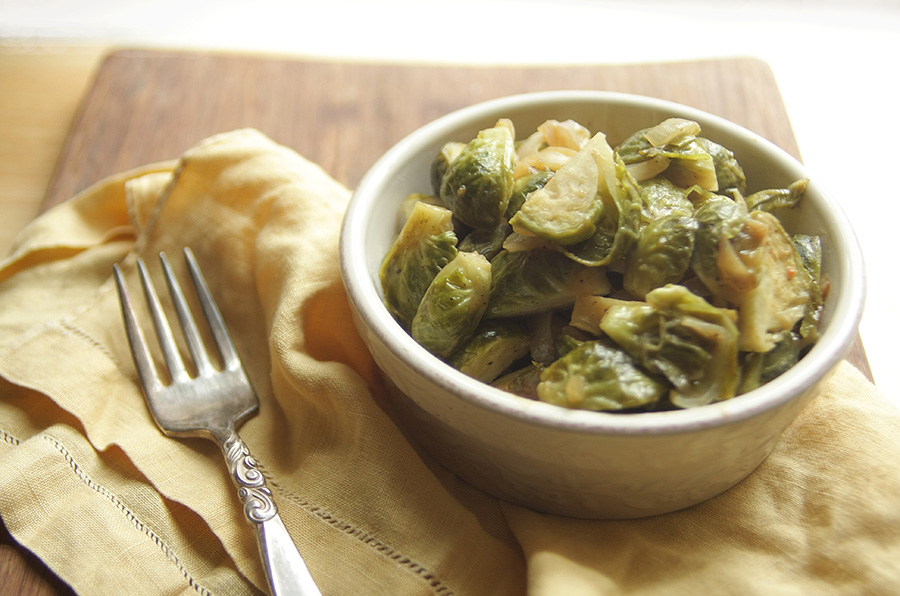 Mustard-Braised Brussels Sprouts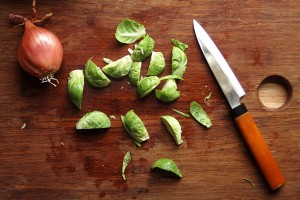 about 4 servings
1 pound Brussels sprouts
2 Tablespoons olive oil or butter
1/3 cup minced shallots
1/2 teaspoon salt
1/3 cup water
1/4 cup mustard (I used a combination of regular and Dijon)
2 Tablespoons honey or brown sugar
fresh ground black pepper to taste
Slice off the tough base of each Brussels sprout and discard any outer leaves that are discolored or wilted (some spots are ok). Quarter each sprout and set aside.
In a small bowl, whisk together the water, mustard, honey, and salt.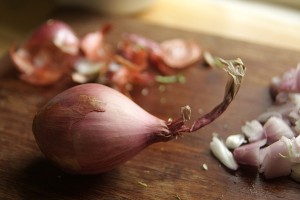 Place a large skillet over medium heat and after about a minute add the olive oil or butter. Swirl to coat the pan, then add the shallots and saute for a few minutes.
Add the Brussels sprouts and the mustard mixture; stir until the sprouts are evenly coated and spread them out in an even layer.
Reduce the heat to medium-low and cover the pan.
Let cook for 8 to 10  minutes or until the sprouts are cooked to your liking.
Grind some fresh pepper over them before serving.
(Note: We've linked to the various Mollie Katzen cookbooks on Indiebound, a site that will connect you with independent bookstores online or on the street to make your purchase.)