(Click on any image to see a larger version.)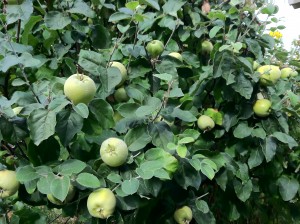 If you want fruit for yourself and not the neighborhood raccoons, do NOT plant a plum tree!
Your creative raccoons will elect a "climber" to go up in the tree and carefully pick and drop every piece of fruit to the ground so the "gatherers" can run off with the loot.
At least that's what we think happened when our plum tree was stripped of all its nearly ripe fruit in a single night.
On the other hand, the quince was left to its own business.
Then came October and the lovely golden fruit tugged on the branches with all its weight…
What to do with dozens of quinces?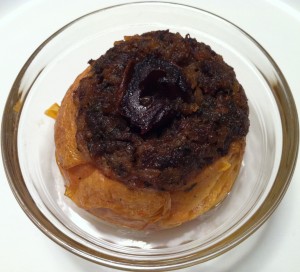 OK, first quince jam (give a few away) then quince butter (give a few away) and next… quinces stuffed with lamb and rice. Ah, getting a bit adventurous aren't we?
The following recipe is more or less what we had for dinner, incorporating quinces from our backyard, Jennifer and Louis' lamb from Crown S Ranch, and Apple and George's apples from River Valley Organics.
Modifications: the ground meat and rice was precooked, mixed together with applesauce and spooned into the quinces. A half a dried date was inserted in the top.
Our dinner was more sweet than savory, but you can use the recipe as is or adjust it to your liking.
Quinces with Lamb and Rice Stuffing
Makes 6 servings
Preparation time: 45 minutes
Cooking time: 2 hours[column grid="2″ span="1″]
Filling
1 onion, peeled and thinly sliced
1/2 pound ground meat (lamb, beef, chicken, or fish
1/2 cup butter or oil
1/4 cup rice, cleaned and washed
1 tsp salt
1/4 tsp freshly ground pepper
1/4 tsp turmeric
1/4 tsp cayenne
2 tsp Persian spice mix
1/2 cup water[/column]
[column grid="2″ span="1″]
Quince
6 medium-sized quinces
6 tbs brown sugar
Broth
1 cup broth or water
Syrup
1/4 cup fresh lime juice
1/2 cup grape molasses or brown sugar
1/4 cup balsamic vinegar
1/4 tsp saffron dissolved in 1 tbs hot water[/column]
Preparation
1. To make the filling, brown onion and meat in skillet with 4 tbs butter. Add rice, salt, pepper, turmeric, cayenne, and 1/2 cup water. Mix thoroughly. Cover and simmer for 15 minutes over low heat.
2. Wash and rub quinces. Cut off tops and set aside. Hollow out quinces, using the tip of a knife or a melon baller to scoop out the seeds and some of the pulp, leaving a shell about 1/2 inch thick. Reserve the pulp to use later.
3. Sprinkle 1 tbs sugar inside each quince and then stuff with the filling. Replace tops and place in deep pan wide enough for the 6 quinces to fit into. Pour broth and the pulp around the fruit. Add a dab of butter on top of each quince. Wrap the lid of the pan with a dish towel and cover tightly. Allow to steep over low heat for 1 hour.
4. In a bowl, combine all the ingredients for the syrup and mix thoroughly. Uncover the pan and pour the syrup over the fruit in the pan. Cover and simmer 45 minutes to 1 hour longer until the fruit is tender, basting occasionally with pan juices.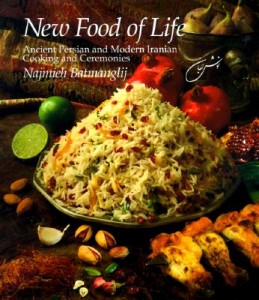 5. Adjust seasonings to taste with sugar or lime juice. Serve in the same baking dish or on a platter. Serve with bread, yogurt and fresh herbs.
Recipe from Food of Life: Ancient Persian and Modern Iranian Cooking and Ceremonies by Najmieh Batmanglij
Get your copy here. Indie Bound will connect you with an independent bookstore on the street or online where you can buy this book.
Photos: Gail NK, taken with an iPhone, with apologies to Ken who is the professional photographer!