Beans: A History, Ken Albala (Berg Publishers, 2007)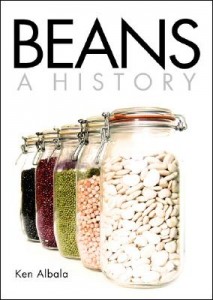 This is the story of the bean, the staple food cultivated by humans for over 10,000 years. From the lentil to the soybean, every civilization on the planet has cultivated its own species of bean.
The humble bean has always attracted attention – from Pythagoras' notion that the bean hosted a human soul to St. Jerome's indictment against bean-eating in convents (because they "tickle the genitals"), to current research into the deadly toxins contained in the most commonly eaten beans.
Over time, the bean has been both scorned as "poor man's meat" and praised as health-giving, even patriotic. Attitudes toward this most basic of foodstuffs reveal a great deal about the society that consumes them.
Beans: A History takes the reader on a fascinating journey across cuisines and cultures.
Get your copy here. Indie Bound will connect you with an independent bookstore on the street or online.