Whether you shop at a conventional supermarket, a natural food co-op, or a farmers market or you belong to a CSA (Community Supported Agriculture) subscription program, you will occasionally see a vegetable that you don't recognize and have no idea what to do with. Or perhaps a packet of seeds captivated you with a beautiful illustration… How do you grow it? How do you harvest it? How do you prepare it?
Here are three references that will help you learn more about veggies like red runner beans, New Zealand spinach (one of our favorites), black radishes, purple potatoes, kohlrabi (another on our "like" list), fennel (the herb and the vegetable), and rainbow-colored carrots.
Now is the perfect time to enjoy local produce – and to sing about it!  While you're planting, weeding, cultivating and cooking, sing along to an ode to tomatoes… Here's Guy Clark singing "Homegrown Tomatoes" – sing along with Guy!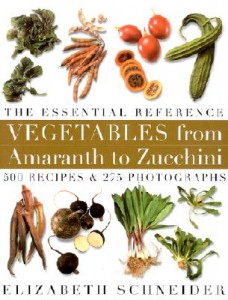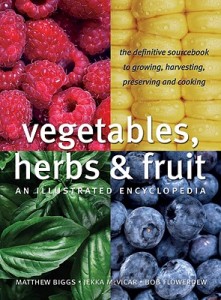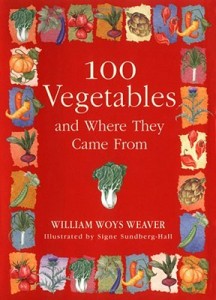 Vegetables from Amaranth to Zucchini – The Essential Reference: 500 Recipes 275 Photographs, Elizabeth Schneider
(William Morrow Cookbooks, 2001)
Vegetables, Herbs and Fruit: An Illustrated Encyclopedia, Bob Flowerdew; Jekka McVicar; Matthew Biggs (Firefly Books, 2009)
100 Vegetables and Where They Came From, William Woys Weaver; Signe Sundberg-Hall (Algonquin Books of Chapel Hill, 2000)
Click on the book cover above and IndieBound* will connect you with an independent bookstore on the street or online.
*IndieBound is a community-oriented movement – and online website – that supports independent businesses including booksellers because buying local means dollars, jobs, diversity, choice, and taxes stay local, creating strong, unique communities and happy citizens.