Mid August…sigh.
Today's a rainy day with cooler weather and I'm home on a stay-cation this week. I'm feeling that summer's wave has long crested and I'm on that inevitable slow coast back to the shore called September.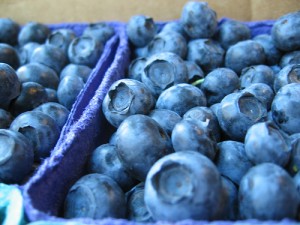 Not exactly high energy, yet I do have a GoodFoodWorld article to write. And while I am considering all the important topics I can write about, I'm left with this gnawing question from July, about how local nonorganic blueberries could possibly have cost $4.99 at my Whole Foods last month, when another local and less sexy supermarket – Foodtown – charged only $2.99 for what seemed the same non-organic blueberries? They both came from farms in Hammonton, NJ.
Now I'm not new to eating healthy real food (I've been on this path for 3 decades and belong to a CSA!), and I know good food ought to cost more (only in America do we expect our food to be cheap and plentiful), but I admit my knee-jerk response to local blueberries was not to be paying $5. I'd expect that in winter when they'd come from South America perhaps (I don't buy them then), but from my home in the Garden State? What's up with that?
Several questions came to mind, each related to the food system puzzle. I know that these questions are nuanced, privileged ones. (I realize I'm not questioning where I can purchase fresh produce, which is its own complex, less fortunate and imperative puzzle.)
"Shouldn't my local produce cost less than buying imports from FL, CA, Canada or Mexico? "
"I want to support local/organic farming as much as possible, what's the best way I can do this? IS there a best way – or does that depend directly on my time, wallet, dietary needs, and politics?"
"Is there a hierarchy of best ways to purchase local food? Does it differ for me AND the farmer? For meat vs. cheese vs. dairy? How do we make it more available? Artisan foods do cost a fortune!"
"How do I know which blueberries to buy when they all are local and seem the same?  When I purchase them in Whole Foods, isn't the markup going into Whole Foods' pocket rather than to the farmer? "
I know this is a pivotal time in history for our food system; we are on the brink of change. Small/local is burgeoning and in battle one way or the other with BIG FARM, and the army is us – the consumers. (The front line, however, are both the most disenfranchised and the most uninformed in our society).  The more I know, the more aware I am that my food purchases are political, and that I vote every day with my choices.
So I called NOFA – Northeast Organic Farmers Association – to see if they could direct me to someone who could shed light on my questions. And they did help…but the plot thickened while it informed.   I thought I ought to talk with Whole Foods as well, so I made the call to Corporate Headquarters in Austin today, and waited for my call back.
Meanwhile still – no article.
Mid-August blas, rainy day blas, what to eat for dinner? SOUP! My panacea.  It's time to clean out my vegetable bin and make a rainy day pot of soup. Now here's an article. (I'll make soup, and just like Seinfeld – there's the subject for a show.)
So I began a pot of soup, kitchen sink style! I shopped for nuttin', used only what I had around. No recipe,  just made it up on the spot. I had lots of potatoes and fresh frozen (non GMO) NJ corn I learned to "put up" a few weeks ago from girlfriends who grew up on farms. I knew that would be the base. I had plenty of time so I made stock with some older veggies in my vegetable coffer: celery, potato, a large Vidalia onion, dried lovage from my garden, vegetable broth powder.
[jj-ngg-jquery-slider gallery="InaSummerSoup" width="640″ height="483″ center="1″ tags="InaSummerSoup" effect="fade" pausetime="4000″ controlnavthumbs="nextgen_thumbs" directionnav="true" thumbsgap="5″ order="sortorder" thumbscontainerheight="55″ captionOpacity="0.80″ ]
(If you want to pause the photos, rest your cursor on any image.)
So, at the end of the day I'm no closer to solving my questions or the problems with our food system. But a pot of homemade soup soothes my senses and calms my agitated mind. I await a call from Whole Foods tomorrow, when I'll be back on the blueberry trail.
And that trail wanders through a maze of "middle people," each of whom can affect the final price of the product on the retail shelf. Somewhere in the middle of this pile of spaghetti added costs can mean the price to the consumer is both $2.99 AND $4.99. Check this out: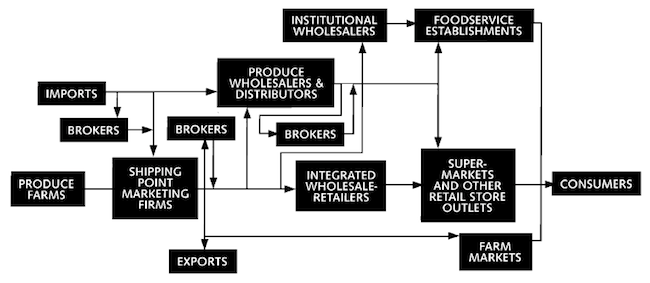 Until next time,
Ina
Photo: blueberries – brxO (used with permission under Creative Commons license)