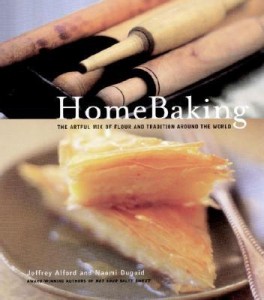 Home Baking, Jeffrey Alford and Naomi Duguid (Random House Canada, 2003)
I am NOT the primary cook in our household, but I do bake regularly. My favorite thing to make is bread and after a lifetime I have finally learned how to make the most amazing – and flavorful – bread.
Because none of the women in my family (mother, grandmothers, aunts) were wildly successful in the kitchen, I started off a little behind the mark. But then, I know how to learn things from books! Add a video tutorial or two and I can do it!
Check out the recipe for Italian boules in Home Baking – found on page 178. A word of warning first: if you have a small family (there are just two of us) cut this recipe in half right away. Who needs four great big loaves to try to store?
And as you are working your way through the process – it can take up to 3 days, but most of that time is just letting everything sit – take a look at Peter Reinhart's video tutorial on "stretch and fold." Then forget everything you learned about kneading bread and start stretching/folding. Amazing things happen!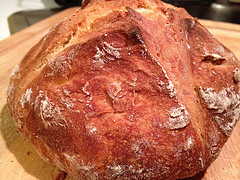 I make two big round boules and then cut each one in half to freeze 3 of the 4 pieces. Each one is nearly equal to a "store bought" loaf.
Get your copy here. Indie Bound will connect you with an independent bookstore on the street or online.
Photo credit: katykash (used with permission under Creative Commons license)