(Click on any of the images to see a larger version.)
Gohe Group Garden distributes over 40,000 seedlings for free to promote home gardens and win the hearts and minds of the community.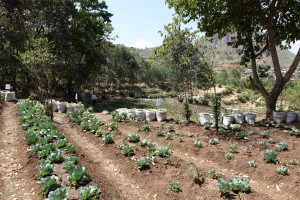 2011 was the year Belete Engedaw, 34, would change his routine. Instead of following migrant workers into the lowlands to labor in the sorghum and sesame fields near the Sudanese border, Belete will stay in his village with his wife and child, and dedicate himself to gardening. If things go well, he planned to maybe buy a goat.
For the last five years, Belete has abandoned his family every year for six months opting to harvest grain in the steamy lowland fields over 500km from his hometown of Tikel Dingay, located in northwestern Ethiopia.
"This year I want to stay and work in the garden. It is risky working in the lowlands. There's malaria and there is a lack of food," he explains.
This year Belete has a choice because he is a member of Gohe, a local association that supports people living with HIV/AIDS (PLWHA).
Gohe partnered with USAID Urban Gardens Program (USAID UGP) in late 2010 and together established a group garden for 106 people, all HIV positive. Thanks to the garden, Belete can not only feed his family the vegetables he grows, but can spend time with his 14 year old son and wife.
Belete is one of several migrant workers living with HIV who decided to forgo the annual migration to the berha or lowlands in local Amharic language. Instead these men and women have found a new vocation in urban farming and a community that accepts them.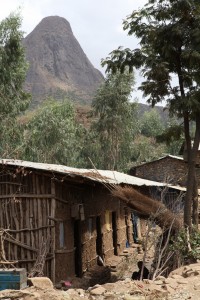 Standing Rocks

Tikel Dingay, meaning Standing Rocks, is the nexus between the Ethiopian highlands and the lowlands to the west. The village of 20,000 people lies some 45km from Gondar, the most important commercial center of the north. As a crossroads, Tikel Dingay's urban population increases every year, sometimes as much as 3%.
The influx of people has created grave problems for the people of Tikel Dingay, not least among them water shortages, an insufficient power grid and sanitation and waste management.  In addition, migrant workers working who come and go are at a higher risk of being exposed to HIV/AIDS. To increase prevention and awareness, Ayalsaw Asiris, 33, created the Gohe PLWHA Association in 2006 with just 16 members.
"I created Gohe to solve the isolation of those living with HIV/AIDS from the rest of the community and to request funds and support from the city's HAPCO office (HIV Control and Prevention)," explains Ayalsaw, a veteran from the Ethio-Eritrean war. "After we were organized, our requests were heard, and they started to support us in numerous ways."
Soon thereafter, the Gohe association set up an animal fattening program on the eastern side of the main highway that dissects Tikel Dingay. Where most of the neighbors in the area had been using the deforested hillsides as latrines, Gohe planted trees and ran a successful operation.
After several years of considerable success with animal husbandry, the city rewarded Gohe—the city's only HIV support association—with a honey filtration system to begin bee keeping and open a new stream of income for members.
Transition to Gardening
The group got a major boost in September 2010 when they joined USAID Urban Gardens Program, partnering with Gondar-based NGO Freyhiwot PLWHA Association.  On 1.5 hectares donated by the municipality, 106 members began breaking land with hand tools and ambition.
Under a large tree in the middle of the terraced garden they planted a small nursery to prepare for the first harvest. Thanks to Ayalsaw's visionary leadership, the group considered not only their garden's needs but those of the community. The Gohe nursery grew nearly 40,000 seedlings for the community at large.
Before planting the seeds, Ayalsaw and his colleagues went around the community writing down the vegetable needs and request of every neighbor. Previously, the people of Tikel Dingay had to purchase seedlings from farmers outside of the village.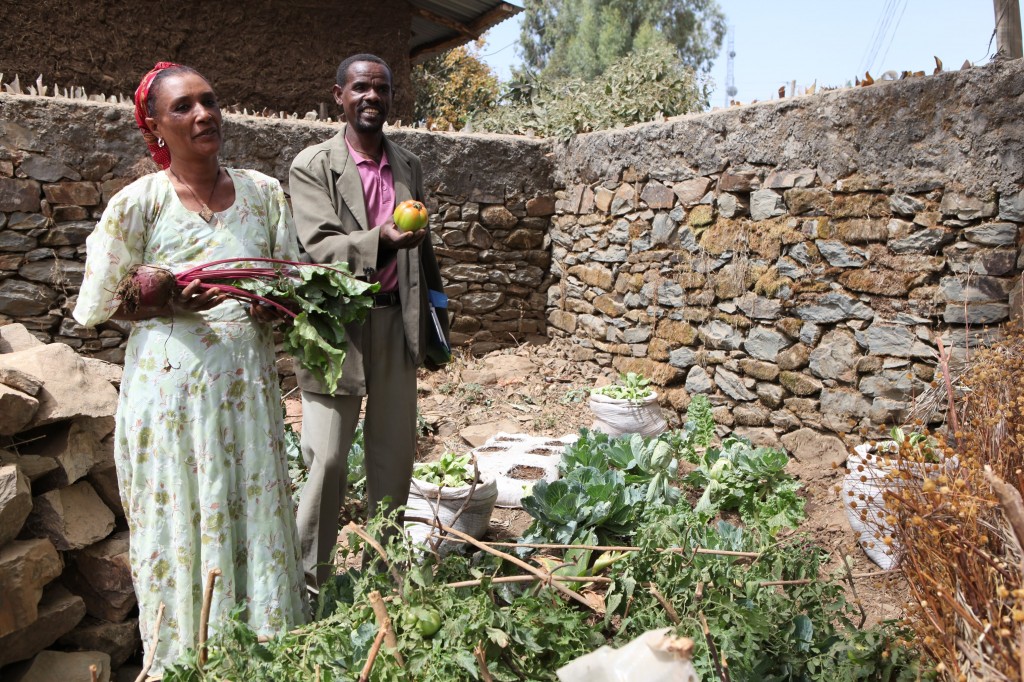 "We had 80 people who wanted seedlings, but we ended up distributing seedlings to nearly 350 people," according to Ayalsaw.
With support from USAID UGP, Gohe also distributed grow bags to promote micro gardening. Today, there are few compounds without a grow bag and seedlings poking through the bags.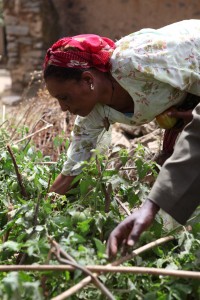 "The first round, we gave the seedlings to the people for free as well as instruction about how to make a home garden," says Werke Dugu, one of the group's gardeners. "Now the community grows their own vegetables at home. You can see there has been a shift in the people's perception of growing food. Now they know it is easy."
Three months later, when Gohe's nursery was ready, the group sold more than 500 birr worth of seedlings, and gardeners harvested their first yield in January 2011.
"I sold 40 kilos of tomato at five birr per kilo," says Werke. "And with my lettuce, I also sold more than I consumed. Gardening is fun, I feel very happy to come here and watch the plants grow day to day."
Werke, the group's storeroom manager, keeps inventory on hand tools (donated by the city) as well as the drip kits, which were provided by USAID UGP.
Drip kits help the group irrigate their garden efficiently. Although water conservation is one of the village's major issues, the city donates water to the garden, allowing them to use the line at night to fill a tanker and the drip kits.
Model Citizens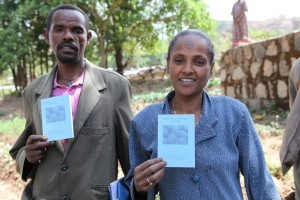 The group's relationship to neighbors and community leaders is a major part of the success. In addition to subsidized water, the group goes around the community collecting animal dung for fertilizer, sometimes for free, sometimes in exchange for seedlings or vegetables.
Mulat Mekonnen, a neighbor and municipal worker living next to the group garden, also received numerous seedlings in December 2010 and started planting a home garden of his own. He remembers when the land was previously occupied by a city-sponsored youth group.
"But those kids never really did anything fruitful with this land. When we saw how hard this group works, we all joined hands to work together," he explains.  Mulat works as a guard in the city administration building and remembers "Gohe coming to the office to ask for support. They tortured the city officials with requests. Now I never see them leave the garden."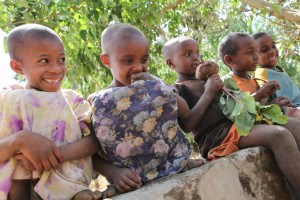 Gohe gardeners are also saving money from their sales. Gohe' s three Group Savings & Loan saved a collective 7,800 birr in the first nine months of gardening. Once the group has saved 10,000 birr, the municipality will grant them a kiosk and members can sell vegetables in the city's main market.
"They have convinced us, so we gave them a three year land lease and free water because they are a good example for the rest of society. Before the garden, they were jobless, now they have decreased our burden," says Eshetey Maledey, Tikel Dingay City Manager.
Thanks to the support of the city and encouragement from the neighbors, Gohe's 106 gardeners are certain they will continue their success. When the group opens its first vegetable kiosk, perhaps migrant workers like Belete Engedaw will have entirely forgotten the terrifying conditions he once had to face in order to support his family.
About USAID Urban Garden Program
This article was written by Nicholas Parkinson, Communications Officer, USAID UGP.
Started in 2008 with funding from the President's Emergency Plan for AIDS Relief (PEPFAR), USAID Urban Gardens Program (USAID UGP) is implemented by DAI and designed to improve the nutrition and income of women and orphans and vulnerable children (OVC) affected by HIV/AIDS through urban and peri-urban agriculture, which includes gardening and raising livestock.
The Gardeners participating in USAID UGP often do not have the means to purchase and consume nutritionally adequate, safe and quality foods such as vegetables. Providing nutritional support to people living with HIV/AIDS (PLWHA) is critical for making ARV's more effective. In addition, excess production from urban gardens can provide income for PLWHA to address other needs.
Between September 2008 and September 2011, the USAID Urban Gardens Program reached 34,200 households and over 118,000 direct and indirect orphan and vulnerable children beneficiaries through micro, household, school and community gardens in Ethiopia. In addition, the program has provided agriculture-related education and training, tools and input. In Ethiopia, USAID UGP has created over 330 group and school gardens operating in 23 cities with the aim of improving both the income and nutrition of its Gardeners.
Learn more about the Urban Gardens Program and Urban Agriculture in Ethiopia here.
Photos: Pol Cucala