August, 1979
We were home from the 5-day family counseling session in the "Cities." It had been a tough thing to go through… by turns stressful, and helpful, and the results were mixed. It would take time for all the emotional scars to heal, but at least there was a start, and that was a relief. Jerry was to remain at Northwestern Hospital for another 10 days of counseling on anger management and control.
We were hopeful, but very glad to be home! I should add that none of this would have been possible without the aid of Howard, our carpenter. He volunteered to stay at the farm during our absence, keep the barn work progressing, and take care of all the animals.
Before we left for the Cities, I had managed to get my information and ideas for SEMSPA's newsletter to Merv Freeman, Area Extension Agent at Rochester. The next issue of "Flock Talk" came out on August 22. It was good to see the progress that SEMSPA was making.
A second informational meeting for members was to be held on September 25, and would be a presentation on grading and judging of wool fleeces by Dick Boniface of North Central Wool Growers Association. It would be held at Olmstad County Fairgrounds in Rochester.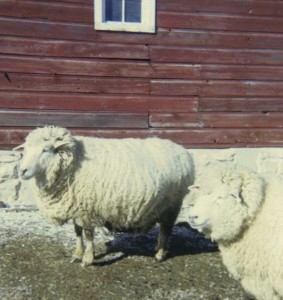 In the meantime, the barn renovation was coming to an end, and life was settling down. The ram pen had been reassembled in the lower barn level, and the "boys" were safely penned, but it would soon be breeding time again.
I had been giving some thought to Dr. Jordan's suggestion of adding some "Finn" breeding to my flock's bloodlines. I was still skeptical, but thought, in deference to his age and wisdom, I should at least consider it… and I would like to be rid of those "pendulous udders," as he put it!
So, in early September, I came to an agreement with myself. If I could find a 1/2 Finn X 1/2 Targhee ram lamb for sale in our area, I would buy him and breed him to about a dozen of my Columbia X Corriedale ewe lambs of that year. I chose the Targhee X in the breed because the background of the Targhee was about as close to my Columbia x Corriedale ewes as I could get.
Now, of course, there was small chance I was going to find a 1/2 Finn X 1/2 Targhee ram lamb lamb anywhere in the area.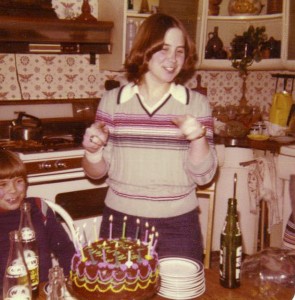 The next week, I opened up the Want Ad section of the area Ag newspaper, and there before my eyes was an ad for a l/2 Finn X 1/2 Targhee ram lamb for sale up near Rochester. It was owned by one of our SEMSPA members. There it was in black and white!
I had thrown down the gauntlet, the challenge had been met, and now I had to follow through. The kids and I drove up to Byron to look at the young ram, not expecting too much. He was perfect! Nice big bones, not a bit "scrawny," (my favorite word for describing the Finn breed), good size, clean face – everything I wanted. I bought him!
This cross would give me 1/4 Finn ewes when the resulting lambs were born. Now I could hardly wait to see the results. Dr. Jordan thought that the addition of the Finn blood to my ewe flock would bring my lambing average up about 20% to 30%, which would get me close to 200%. when the 1/4 Finns lambed in their 2nd year. Time would tell!
In early October, "Little Mac" was turned in with the 48 mature ewes for early March lambs next Spring. I had sold 12 of the 26 ewe lambs to another producer, so on October 24 the young 1/2 Finn-1/2 Targhee ram was put in a separate pasture with the 14 remaining ewe lambs.
Early November 1979, and I was very busy sending info for SEMSPA's November 14 issue of "Flock Talk," and also  preparing my Treasurer's report and Secretarial reports for SEMSPA's First Annual Meeting and Sheep Day to be held December 1, l979.
I had sold 10 freezer lambs that fall, and was delighted to receive a letter from on of my regular customers, who had purchased 2 lambs that year. He had invited Australian friends for dinner, and prepared 2 legs of lamb, "Australian Style."
His guests said they had never found good lamb  in this country, but thought this was superb. Perhaps this was due to my following the Australian method called "Cryptorchiding" with my ram lambs.
In this method, the male lambs were not castrated, rather the testicles were pushed up into the body cavity, and an elastrator ring placed on the scrotum, which would in time atrophy and fall off. These lambs were essentially intact males, but were usually sterile due to body heat, but still produced testosterone and would grow faster and have a leaner carcass than a wether (castrated), lamb.
When I read about this practice, I thought it made sense and decided to try it. I was very well pleased with the outcome, and so were my freezer lamb customers. Of course, you could not put these cryptorchids into a feedlot situation, where there were also ewe lambs, as they still would attempt to breed, and bedlam would ensue.
SEMSPA's First Annual Meeting and Sheep Day was held December 1, 1979 at the Holiday Inn South in Rochester.  The annual business meeting was held in the morning, and a sumptuous Leg of Lamb Buffet Dinner was served by the Holiday Inn staff, followed by an afternoon program of informational speakers.
At that date we had 81 member families and 9 junior members.