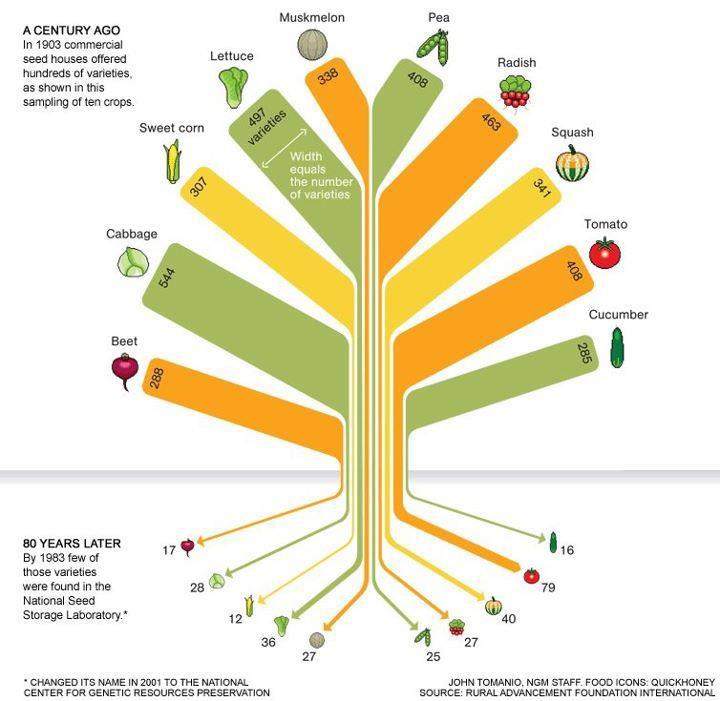 Yes, it's Spring – and produce season is ostensibly months away. I say that with my tongue firmly planted in my cheek because we can buy hot weather fruit and vegetables year round thanks to the "miracle" of modern transportation.
OK, so we're told that we have the world of food at our fingertips, and the supermarkets lay out a spread that leads us to believe the choices are unlimited. According to FMI (Food Marketing Institute) the average supermarket, in 2010, carried 38,718 different SKUs (shopkeeping units). That's based on the number assigned to everything from tomatoes to toothpicks when it goes into the store.
The same organization – FMI – tells us that only about 11% of the total $443 billion in supermarket sales is allotted to produce, while "Dry Grocery  (Food)" – all those packages, boxes, and bags on the center aisles of the stores comes to more than 25% of all sales.
Yes, Virginia, there are lots and lots of things to choose from, unfortunately most of them are not fresh fruits and vegetables.
The diversity of food crops available today has shrunk to a small percentage of those available just 100 years ago. And is likely to shrink even more as the "Big Six" – Monsanto, DuPont, Syngenta, Dow, Bayer, BASF – begin to buy up the remaining crop and garden seed companies.
What can you do? Shop seasonally – preferably small and local – or grow your own.
Farmers markets offer a wide variety of heirloom and heritage fruits and vegetables – in season – and local natural food stores, small family chains, and food co-ops are struggling to buy from local producers when they can.
We're having an early spring in Puget Sound, and those fortunate enough to be members of a CSA like Jubilee Biodynamic Farm are already enjoying great local produce like Jubilee's latest delivery box, which includes eggs, celeriac, apples, pears, garlic, collards or kale, green onions, braising mix, and potatoes.
Just remember those tomatoes you see in the supermarket in February probably traveled thousands of miles to get to you and they were bred to take that travel in good shape. Who said they should taste good?
________________________________________
Additional Resources:
Rural Advancement Foundation International
National Geographic Food Ark, July 2011
Food Insurance: Seed Banks
Seed Industry Structure – 1996-2008, Phil Howard, Michigan State University
Tomatoland, Barry Estabrook
The American Way of Eating, Tracie McMillan