This last month has been a little roller-coaster ride. Ian and I have taken on a number of new challenges, some individually and some together. I took on a new job while he took on more practice hours in preparation for his recital. I launched a new website and we started saving our food scraps for compost.
Now I'm asked to reflect about what I've learned, and at first it all comes back to me as a jumbled mess – cluttered apartment, nearly-missed bus rides, botched recipes – and I'm not sure what I have to show for it. But as I mentally ticked off the events of the last few weeks, it was clear that we weren't wasting time. In between each hiccup we celebrated little successes, and even our low points left us with lessons learned.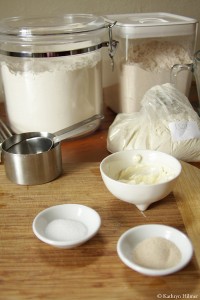 When you buy in bulk and like to cook, kitchen organization is a must.
The plastic bag problem came to a head this month when we found our kitchen was being taken over by the leftover bulk bags – the clear ones with the twisty ties. I hate to wash them but we accumulate more every time we go to the store. They cluttered up the cupboards and the ones with flour in them inevitably sprung little leaks. Finally, I invested in some containers for our most-used items (white flour, wheat flour, sugar, rice). From now on we'll wash and re-use just a few bags to transfer our bulk items from the store to our containers at home. Glass or plastic is best; that way you can see what's in there without labeling everything, plus you'll know when you're running low on something.
As a side-note: many natural foods stores offer biodegradable bags, but I haven't heard of any stores that take bulk bags back for re-use (Although the Albertsons in our town takes regular plastic bags). For produce, reusable mesh bags are a good investment.
High-quality cookware is a worthwhile investment.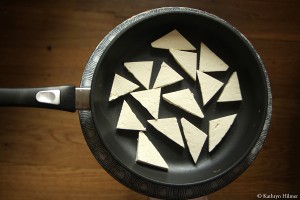 I invested in a new pan this month, and it's a lifesaver. We had a good collection of stainless steel pots and pans at home, but nothing non-stick, just a little cast iron skillet.
It's something I learned a while back, but I'm always being reminded of: your cookware can make or break a recipe. Stainless steel is great for browning, but will likely ruin your tofu.
Steer away from sketchy, second-hand pans of the non-stick variety – if the pan is thin and likely to be dented from one drop, or if the coating is scratched and flaking away, I don't care how cheap it is! It's not going to last and is likely hazardous to your health.
For questions about your cookware, this blog I found has one of the most comprehensive lists with suggestions for when and how to use each type.
I've been using a new type of nonstick pan at the B&B, and this month I bought one for our home, to round out our collection of stainless steel pans (and one small cast-iron). Silicone is a relatively new product, the full effects of which have yet to be determined. For now, I consider it a good alternative to Teflon, but your all-around best bet for a safe non-stick pan is a well-seasoned cast iron skillet. You should have no problem so long as you treat your cast-iron right.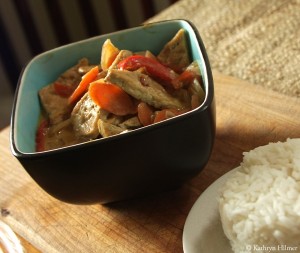 Meat alternatives are a good budget choice, but you don't have to sacrifice taste and flavor.
As an off-shoot of the pan thing, I've learned a lot about tofu. It's cheap, tasty, and nutritious – what's not to like? We tried it out earlier this month and already it's a new staple in our diet. But it's easy to get turned off by tofu if it hasn't been prepared correctly – learn how to do it the right way, and you'll be pleasantly surprised!
Composting is worth it – but plan ahead!
This month we also started saving our food scraps for compost, and from it we've learned a few things. For one, it shows how much food waste just two people can make on a daily basis – a lot! At first we were just throwing onion skins and banana peels into empty yogurt containers, then plastic bags… now, we're on the lookout for a big bucket to store under the sink. It needs to have a tight-sealing lid, because all that waste can really stink up your apartment.
Even more importantly, you need to have a plan for removal – at least once a week! When we shop at the co-op I try to remember to bring our scraps to add to their compost bin, or I take them to our friends' compost pile. It's easy in a garden town (especially in the summer) but if you're in an urban place with little space and are having trouble finding support for this sort of thing, you might want to check out this article I found about urban composting.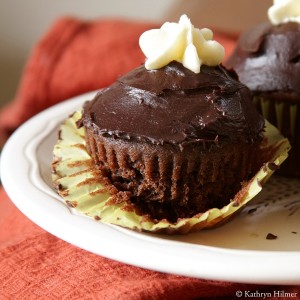 Don't sell out to artificial flavors and ingredients… you'll be glad you didn't.
Around Valentine's day, I spent many hours in the kitchen trying to turn out an all-natural red velvet cake (traditional recipes call for a whole bottle of red food dye). Over several days and many batches of cupcakes – some that tasted good but looked crummy, some that tasted crummy but looked good, and one batch that was all around awful – I finally got fed up and put the project on hold, opting to make something else with a recipe that I knew would work.
Do go homemade…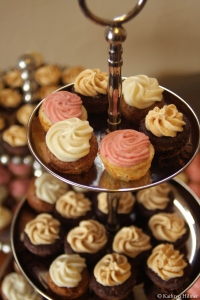 The cupcakes I ended up making were a huge success at Ian's recital; so much classier, tastier, and healthier than the frosting-laden sheet cakes typical at those events. Cheaper too – apart from my time, my expenses were minimal (butter, sugar, flour). But I still harbored some frustration at failing with my original intent.
The other night, after another failed red velvet experiment, I took the results to share at bike polo. The cupcakes had turned out tasty but decidedly brown. I frosted them anyway… it wouldn't matter to our friends as they were always excited to have some free treats. But one girl in particular said she'd love to have the recipe once I figured it out; she was allergic to red food dye. And silly though it seems, I suddenly felt better about all the madness, like maybe my endeavors weren't so pointless after all.