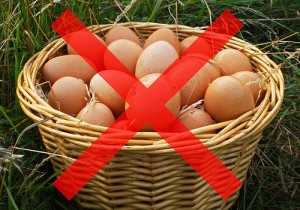 What's with eggs these days? It's déjà vu, all over again! This time we're talking hard-boiled, not "shell eggs."
Summer of 2010 saw the recall of more than 550 million – that's half a billion, folks! – shell eggs contaminated with salmonella.
Now Michael Foods Inc., a Minnesota-based food company, is recalling – and recalling and recalling – more than one million hard-cooked eggs from 34 states, after tests revealed some may be contaminated with Listeria monocytogenes bacteria.
Food Safety News has the time line of the recall here:
Jan. 28: Listeria Fears Prompt Hard Cooked Egg Recall
Feb. 2: Hard-Cooked Egg Recall Expands, Potato Salads Included
Feb. 3: Hard-Cooked Egg Recall Widens
More about the shell egg recall of 2010:
The FDA's Egg Inspection Reports. Yuck! Food Politics, August 31, 2010
The Egg Factory, New York Times, August 29, 2010
Half-billion Eggs Recalled, Lawmakers Want Answers, Food Safety News, August 24, 2010
The Egg Recall Saga Continues, Food Politics, August 23, 2010