This certainly is not an all-encompassing list of books for the reader who wants to know more about genetically engineered or genetically modified foods. It is a place to begin reading and to learn more.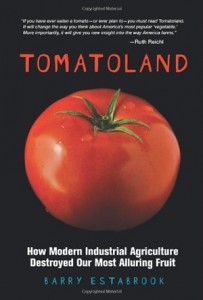 Tomatoland by Barry Estabrook
In Tomatoland, which is based on his James Beard Award-winning article, "The Price of Tomatoes," investigative food journalist Barry Estabrook reveals the huge human and environmental cost of the $5 billion fresh tomato industry.
Fair Food: Growing a Healthy, Sustainable Food System for All by Oran B. Hesterman
A host of books and films in recent years have documented in great detail the dangers of our current food system, but advice on what to do about it largely begins and ends with the admonition to "eat local" or "eat organic." This advice is not helpful if, as Chicago Congressman Bobby Rush once pointed out, you can buy ketchup where you live, but no fresh tomatoes.
Organic Manifesto by Maria Rodale
Maria Rodale, CEO and Chairman of Rodale Inc., sheds new light on the state of 21st-century farming. She examines the unholy alliances that have formed between the chemical companies that produce fertilizer and genetically altered seeds, the agricultural educational system that is virtually subsidized by those same companies, and the government agencies in thrall to powerful lobbyists, all of which perpetuate dangerous farming practices and deliberate misconceptions about organic farming and foods.
Fighting for the Future of Food by Rachel Schurman
Fighting for the Future of Food tells the story of how a small group of social activists, working together across tables, continents, and the Internet, took on the biotech industry and achieved stunning success. Rachel Schurman and William A. Munro detail how the anti-biotech movement managed to alter public perceptions about GMOs and close markets to such products.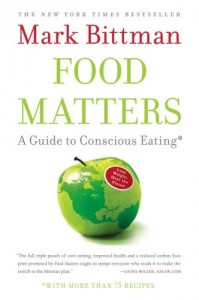 Food Matters by Mark Bittman
Food Matters explores the links among global warming and other environmental challenges, obesity and the so-called lifestyle diseases, and the overproduction and over consumption of meat, simple carbohydrates, and junk food.
Seeds of Deception by Jeffery M. Smith
The explosive exposé Seeds of Deception reveals how industry manipulation and political collusion-not sound science-allow dangerous genetically engineered food into your daily diet. Company research is rigged, alarming evidence of health dangers is covered up, and intense political pressure applied.
The World According to Monsanto: Pollution, Corruption, and the Control of Our Food Supply by Marie-Monique Robin
Robin reports that, following its long history of manufacturing hazardous chemicals and lethal herbicides, Monsanto is now marketing itself as a "life sciences" company, seemingly convinced about the virtues of sustainable development.
However, Monsanto now controls the majority of the yield of the world's genetically modified corn and soy – ingredients found in more than 95 percent of American households – and its alarming legal and political tactics to maintain this monopoly are the subject of worldwide concern.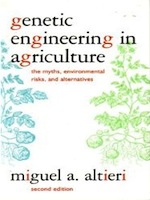 Genetic Engineering in Agriculture: The Myths, Environmental Risks, and Alternatives by Miguel Altieri
Those are not your grandfather's potato chips. As debate rages over the costs and benefits of genetically engineered crops, noted agroecologist Miguel Altieri lucidly examines some of the issue's most basic and pressing questions.
Agriculture and Food in Crisis by Fred Magdoff and Brian Tokar
In Agriculture and Food in Crisis, Fred Magdoff and Brian Tokar have assembled an exceptional collection of scholars from around the world who share a focus on investigating how agricultural production is shaped by a system that is oriented around the creation of profit above all else, with food as nothing but an afterthought.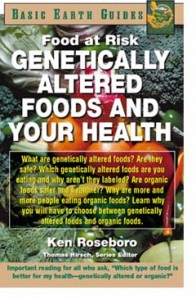 Genetically Altered Foods and Your Health by Ken Roseboro
Most people don't know what's in the food they eat every day. Although the recognized brands of packaged foods, salad dressings, canned goods, soft drinks, and snack foods may look the same as always, their contents have radically changed. They now contain something new and unfamiliar—genetically engineered ingredients. Genetically Altered Foods and Your Health examines how genetic engineering is radically changing our food—at great risk to human health and the environment—and answers these questions:
Why are scientists genetically altering foods?
What genetically engineered foods are you eating?
Are genetically engineered foods safe?
Why aren't GE foods labeled?