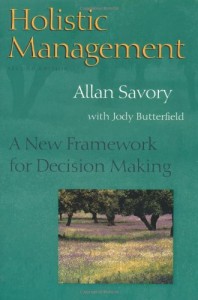 Originally developed in response to the needs of range managers in Africa, Holistic Management has evolved into a modern-day decision-making framework. Allan Savory, developer of the Holistic Management framework, determined that the environmental problems we face around the world are caused by human management decisions and only through wholesale changes in the way decisions are made can we restore functioning ecosystems.
Truly representative of the Triple Bottom Line approach to business, Holistic Management considers humans, their economies, and the environment inseparable. At the heart of the approach lies a simple testing process that enables people to make decisions that simultaneously consider economic, social, and environmental realities, both short- and long-term.
Managers that choose to implement this process first must take a holistic perspective – examining each situation in context of the whole. The next step is to develop a holistic goal that encompasses the quality of life, forms of production, and future resource base desired.
As plans and activities are developed and implemented, each action should be tested by answering these seven questions:
Does this action address the root cause of the problem (the weakest link)?
Does this action provide a greater return in terms of time and money spent, than alternative actions?
Which of two or more possible alternatives provide the best gross profit?
Is the energy or money to be used in this action derived from the most appropriate source?
Will the energy or money be used in the most appropriate way in terms of your holistic goal?
Will this action lead toward or away from the future resource described in your holistic goal?
How will this action affect your quality of life and that of others?
You can learn more about this business management tool by participating in a free webinar presented by Managing Change Northwest which describes the techniques for more sustainable decision-making and a holistic approach to financial planning. You will also learn how to manage for profit and balance the social, financial, and environmental aspects of your life, farm, business, or organization.
Register here.
Wednesday, January 18, 2012, 7:00 – 8:00 PM PST – Space is limited
If you can't make the webinar, read Holistic Management: A New Framework for Decision Making, by Allan Savory and Jody Butterfield (Island Press, 1998). The staff of Managing Change Northwest have completed the Certified Educator Training Program in Holistic Management® based on Savory's decision-making framework.