Still have a few folks on your shopping list? No worries! Just head out to your local natural food co-op where you can find all sorts of goodies for last minute gifts. PCC Natural Markets here in Seattle have some great ideas!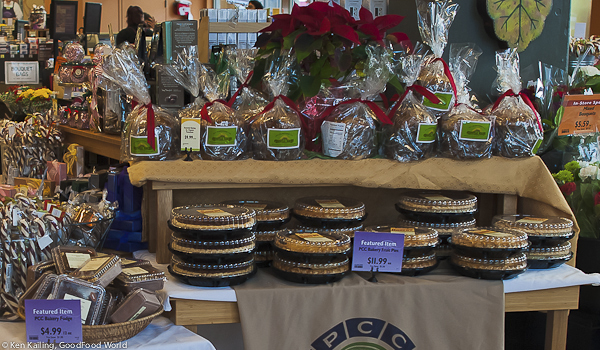 Here are a few suggestions:
1. Oranges: A hundred years ago, oranges were the fruit of choice at Christmas because in northern climates they were pretty much the only fresh fruit available. In Louisa May Alcott's Little Women, young Amy March treasured her Christmas orange during hard times. The "sunshine" fruit in the middle of winter is wonderful!
2. Flowers: The poinsettia's association with Christmas began in 16th century Mexico, where legend tells of a young girl who was too poor to provide a gift for the celebration of Jesus' birthday. She gathered weeds from the roadside and placed them in front of the church altar and crimson "blossoms" sprouted from the weeds and became beautiful poinsettias.
3. Cookies and Ice Cream: You can never go wrong with cookies and ice cream. And you have so many choices – organic, vegan, gluten-free, non-dairy… Who needs "one size fits all?"
4. "Nothing says loving like something from the oven." Forget Pillsbury – do it yourself or snatch up a pie you can warm up when you arrive! "Mince pie" was traditionally served during the Christmas season, though today there is probably no meat in the "mincemeat pie."