(Click on the first image if you would like to see a slide show of these yummy goodies!)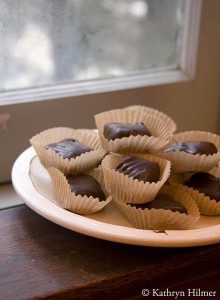 When it comes to gift-giving, I try to do homemade as much as possible. Things like knit hats, Christmas cookies, photographs you've taken… it means more when you know the giver has put real time and thought into it.
Course, it's not easy to do homemade when all they want is an iPod and some games for their Wii. But most of the time I can find some way to put my own personal touch on a gift that they'll love. And honestly, who doesn't love chocolate?
I had this idea that I would make all sorts of delicacies this Christmas, and give out boxes of assorted candies and chocolates. I began with making Turkish delight… a gelatinous candy flavored with rose water and dotted with chopped pistachios. It was interesting. Everyone else at the party seemed to like it… I actually felt like I was eating a squishy bouquet of roses. Chocolate though, that's a safe bet.
So I went to our natural foods store and bought a pound of it, wonderful dark bittersweet stuff… it comes in bulk and looks like it's been chiseled off from a huge slab. It's not incredibly cheap (around $6.50 a pound) but I was able to make more than 40 good-sized chocolates with it… imagine the cost of buying that much at a nice candy shop.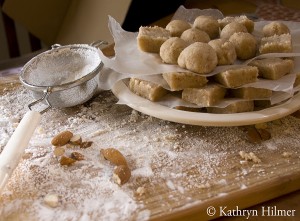 We started out with marzipan. After seeing how simple the recipe was (ground almonds + sugar + egg whites) I had to try it, and also cover it in chocolate. A large bag of almonds was around $9 and the 4 cups of ground almonds the recipe called for only took a fraction of the bag.
But be prepared to spend some time grating almonds if you don't have a food processor. My microplane zester/grater is awesome—it did the trick, almond by almond. While watching a movie it actually didn't take long. Here's the recipe I used.
Marzipan can be molded into different shapes, it's really cool. But I pressed it into a pan and chilled it before cutting it into neat little squares. So we could dip it in chocolate, and send some to my brother-in-law who loves marzipan. The recipe made about 40, and then I had to go back for more chocolate because we weren't done yet.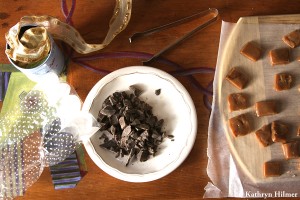 Next I made caramels. My mom loves them and last year I gifted her some plain, but this year they were dipped in chocolate with delicious success. The process for chocolate coating will be the same no matter what you dip, but here's the easy caramel recipe. Cooled and cut into squares, stack them between pieces of wax paper because they have a bad habit of sticking together.
And then… truffles! I found out that chocolate ganache (truffle filling) is super quick and easy. You only need ten minutes and some chocolate, sugar, and cream. The filling is chilled and then rolled into balls. They still remain pretty soft, so keep them cold and work quickly when you're dipping them in the melted chocolate. The ganache is really versatile.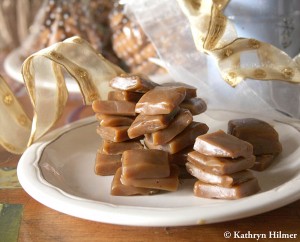 We divided our batch into two bowls: one flavored with shaved coconut, and the other with mint extract. But you could use anything—flavored liquors, chopped dried cherries or crystallized ginger, nuts, vanilla, you name it. You might dust the top with coconut if there's coconut inside or drizzle it with white chocolate to show it's mint. Unless you prefer their contents to remain a mystery, which is also understandable.
Now before you go off and cover everything in chocolate (including the iPod and Wii games) we need to talk about tempering. If you think you can just melt chocolate and dip stuff and come out with an awesome shiny snappy chocolate shell, you will be mistaken. Although I'm sure it will taste just as yummy, the texture will be different (softer, bendy) and the presentation may be dull or streaky. Turns out that professionals "temper" their chocolate first. I've tried it a few times and had success recently so check out my blog post if you want to hear how. It sounds tedious but is really not so scary and totally worth it once you see the results.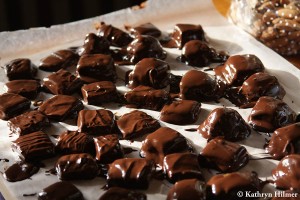 One thing you could do, first make everything you want to dip in chocolate. Have it cut and chilled and ready, and then have one big melting/dipping/cooling sesh. If you are making several different things and want to go that route, I just have a few suggestions. Make sure you've got places to put the dipped items (wax-paper lined surfaces). And make the most of your pot of chocolate.
Save the heat-resistant items for last, like almonds! When you're chocolate isn't deep enough for dipping anymore, throw in a handful of almonds, mix it around and then scoop 'em out (I used a little ice tongs and placed them on wax paper). You can dust them with cocoa powder so they're extra pretty or with chili powder so they're kinda spicy.
Then there is likely still chocolate residue in the pan, so you might as well pour some milk in there and make yourself a hot chocolate. Now you didn't waste any of it and you don't have to deal with a chocolate-encrusted pan! At this point during our experimentation I was nearly beside myself with glee.
In conclusion, chocolate makes everything that much more awesome. Find something to dip, be it old pretzels, candied orange peel, or what have you. Prepare it, share it, and have a happy Christmas!