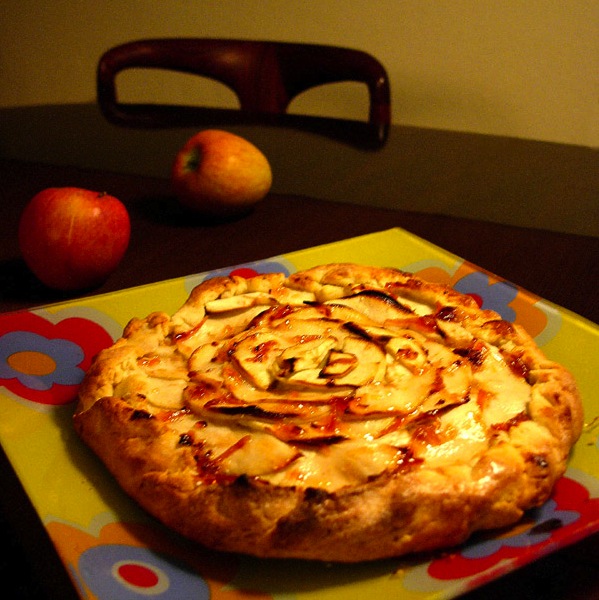 Just because you are forgoing gluten, doesn't mean you can't have pie. And who says apple pie has to have a "top?"
This is an easy-to-make, tasty dessert. Make it using organic apples, fair trade sugar, organic butter, and farm fresh eggs.
Why we like Maninis® mixes:
Maninis mixes contain organic ingredients, as much as possible.
Maninis mixes are made with ancient grains: organic millet, teff, organic quinoa, certified gluten free oats, flax, organic amaranth, organic sorghum.
Maninis mixes contain no rice, soy, beans, or casein.
Maninis mixes do not contain any bio-engineered products – they're non-GMO.
So get baking!
Gluten-Free Apple Crostata
Makes 6 servings
Ingredients:
Crust
2 ½ cups Maninis Multiuso Multipurpose Flour Mix
1 teaspoon fine sea salt
1 teaspoon sugar
1 cup(2 sticks) chilled unsalted butter, cut into 1/2″ cubes
Filling
½ cup sugar
2 tablespoons cornstarch
½ teaspoon ground cinnamon
½ teaspoon ground nutmeg
Pinch of fine sea salt
2 ½ pounds Golden Delicious apples (about 5 large), peeled, halved, cored, cut into 1/4″-thick slices (about 7 cups)
2 tablespoons fresh lemon juice
1 large egg
2 tablespoons raw sugar
2 tablespoons pure maple syrup
Vanilla ice cream, vanilla gelato, or sweetened whipped cream
Preparation:
Crust
Place flour, salt, and sugar in a food processor; pulse to blend. Add butter; pulse just until coarse meal forms. Add 1/4 cup ice water; pulse until dough forms clumps, adding more ice water by teaspoonful if dough is dry. Gather dough into a ball; flatten into a disk. Wrap dough in plastic and chill 1 hour. DO AHEAD: Crust can be made 1 day ahead. Keep chilled. Allow to stand at room temperature for 15 minutes to soften slightly before rolling out.
Filling
Preheat oven to 400°. Place a large sheet of parchment paper on a work surface. Roll out dough disk on parchment paper to 15″ round (some of dough will extend over edges of paper).
Whisk sugar, cornstarch, cinnamon, nutmeg, and salt in a large bowl. Add apples and lemon juice to bowl with sugar mixture; toss to coat apples evenly.
Transfer apples to crust, mounding in center and leaving a 3″ plain border. (Scrape out any juices from bowl and drizzle over apples. Fold crust edges up over outer edges of filling, crimping dough and folding and pleating as needed to fit. Slide crostata and parchment onto a large rimless baking sheet. Crack egg into a small bowl. Using a fork, beat egg just to blend. Brush crust edges with beaten egg, then sprinkle crust with raw sugar.
Place crostata in oven and bake until juices in center are thick and bubbling, about 1 hour. Let cool for 5 minutes. Run a long, thin knife or offset spatula around edges of crostata to loosen from paper and to prevent it from sticking to the paper. Transfer baking sheet with crostata to a wire rack. Brush apples generously with maple syrup. Let crostata cool.
Cut crostata into wedges. Place wedges on plates. Serve with ice cream, gelato, or whipped cream.
(Adapted from recipes from Bon Appetite Magazine)
Photo credit: chotda, used with permission under Creative Commons license.