"Planning" – urban and rural, local and regional – is not an evil attempt to take away property rights or to control personal freedom, as some would have us think.
Food systems planning is the intersection of sustainable agriculture and sustainable community. As an emerging field of practice, food systems planning supports, facilitates and promotes:
Local, regional and sustainable agriculture
Supply chains and infrastructure to process, package and distribute food
Food security, nutrition and health;
Reuse, recovery, recycling, and disposal systems for food waste and packaging
Ever more Americans are becoming urban dwellers and access to good quality, reasonably priced food grown sustainably is more and more challenging. Food is grown using chemical-laden agricultural methods and travels longer distances to kitchen or table. We need to find ways to bring sustainable food production closer closer to home.
This week, the American Farmland Trust sponsored a webinar (the recording is available here) titled Planning for Food and Agriculture: Taking a Systems Approach. Speakers from four states – California, Iowa, Washington, and Oregon – presented actions and programs already in place.
David Shabazian, Senior Planner, Sacramento Area Council of Governments, Rural-Urban Connection Strategy, Sacramento CA
Jason Grimm, Food System Planner, Iowa Corridor Food and Agriculture Coalition, A Healthy Seasonal Local Food System Plan
Kathy Creahan, Program Manager, King County Department of Natural Resources & Parks, King County WA
Katie Lynd, Food Policy Coordinator, Multnomah County Office of Sustainability, Multnomah Food Action Plan, Multnomah County OR
Presented clearly and without jargon or "buzzwords," David Shabazian's segment (the first of the four) demonstrated how land use planning and economic modeling can create the groundwork for a successful local and regional food economy.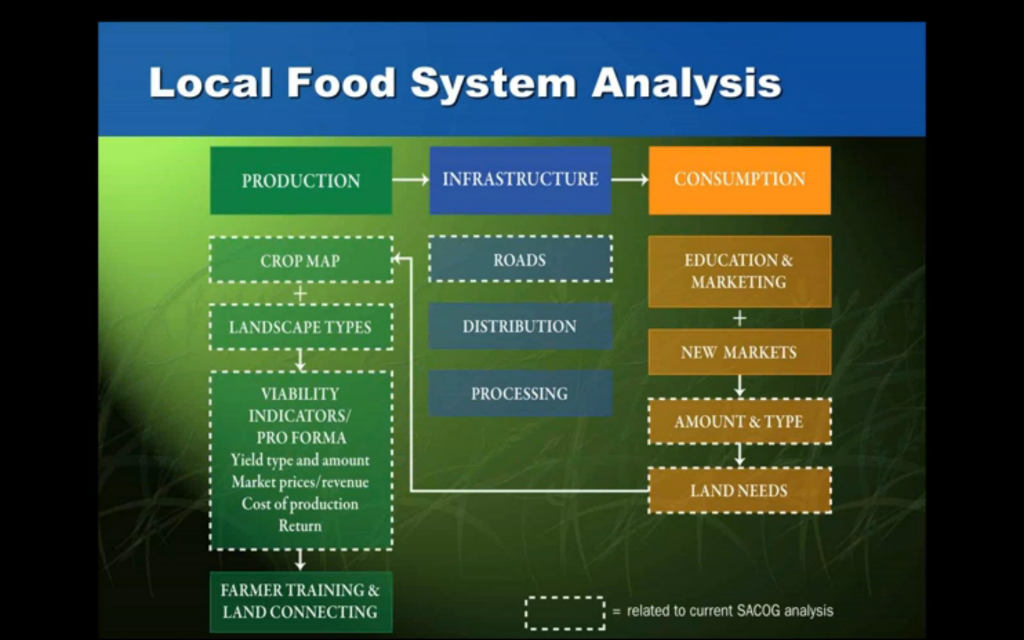 Using sophisticated modeling software and multiple layers of data, Shabazian is able to look at local food systems from production to consumption. By doing so, he and his collaborators have identified major gaps involving processing and distribution – links that are often missing in local or regional food economies.
View the webinar and learn how sophisticated planning tools in the hands of creative, forward-thinking practitioners can help insure that we have safe, secure access to good food, even as urban areas continue to grow.
See local and regional planning in action here New Urbanism Meets Alternative Agriculture. "Growing Local," was the theme of this year's Congress for New Urbanism conference held in Madison WI.