The Environmental Working Group – provider of the Clean 15 and the Dirty Dozen lists of produce contaminated with pesticides – has reviewed 84 popular brands of breakfast cereal.
Are you ready for the worst of the worst?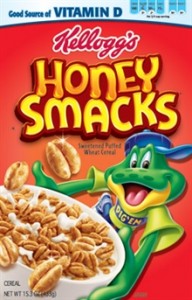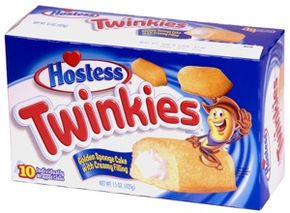 Kellogg's Honey Smacks, nearly 56% sugar by weight, leads the list of the 10 worst children's cereals, according to EWG's analysis. In fact, a one-cup serving of the brand packs more sugar than a Hostess Twinkie, and one cup of any of the 44 other children's cereals has more sugar than three Chips Ahoy! cookies.
While Congress is making moves to control aggressive food company advertising to kids, only one in four children's cereals meet the proposed voluntary guidelines as put forward by the federal Interagency Working Group on Food Marketed to Children.
"When I went to medical school in the 1960s, the consensus view was sugar provided 'empty calories' devoid of vitamins, minerals or fiber," said health expert Dr. Andrew Weil. "Aside from that, it was not deemed harmful. But 50 years of nutrition research has confirmed that sugar is actually the single most health-destructive component of the standard American diet. The fact that a children's breakfast cereal is 56 percent sugar by weight – and many others are not far behind – should cause national outrage."
"Cereal companies have spent fortunes on convincing parents that a kid's breakfast means cereal, and that sugary cereals are fun, benign, and all kids will eat," said noted NYU nutrition professor Marion Nestle. "The cereals on the EWG highest-sugar list are among the most profitable for their makers, who back up their investment with advertising budgets of $20 million a year or more. No public health agency has anywhere near the education budget equivalent to that spent on a single cereal. Kids should not be eating sugar for breakfast. They should be eating real food."
10 Worst Children's CerealsBased on percent sugar by weight
1.) Kellogg's Honey Smacks
55.6%
2.) Post Golden Crisp
51.9%
3.) Kellogg's Froot Loops Marshmallow
48.3%
4.) Quaker Oats Cap'n Crunch's OOPS! All Berries
46.9%
5.) Quaker Oats Cap'n Crunch Original
44.4%
6.) Quaker Oats Oh!s
44.4%
7.) Kellogg's Smorz
43.3%
8.) Kellogg's Apple Jacks
42.9%
9.) Quaker Oats Cap'n Crunch's Crunch Berries
42.3%
10.) Kellogg's Froot Loops Original
41.4%
Some cereals are better than others. Nutrition expert Marion Nestle recommends:
Cereals with a short ingredient list (added vitamins and minerals are okay).
Cereals high in fiber.
Cereals with little or no added sugars (added sugars are ingredients such as honey, molasses, fruit juice concentrate, brown sugar, corn sweetener, sucrose, lactose, glucose, high-fructose corn syrup and malt syrup).
Among the best simple-to-prepare breakfasts for children are fresh fruit and high-fiber, lower-sugar cereals. Better yet, pair fruit with homemade oatmeal or other whole grain hot cereal.
We recommend Bluebird Old World Cereal Blend or Bob's Red Mill Organic Thick Rolled Oats – we eat them both regularly for breakfast!