Confession: I am sometimes a picky eater.
There aren't too many foods I won't eat, but if I'm not feeling a certain food at a certain time… I'm not feeling it.
This happens a lot when I'm faced with leftovers. Leftover lasagna again? I'm not feeling it. Too much cheese.
Ian is just the opposite. He cleans out the fridge. He eats the food I pick off my plate and put on his.
He doesn't turn his nose up at questionably old, bruised fruit. I'm lucky to have him. But maybe not all of you have someone to eat the stuff you'd rather not.
So, in light of our recent Thanksgiving feasts and the abundance of leftovers that is sure to follow, here is some advice on how to make tasty use of the stuff from the day (or week) before.
If you're still faced with leftover turkey (I am!), your most likely option is to turn it into sandwiches.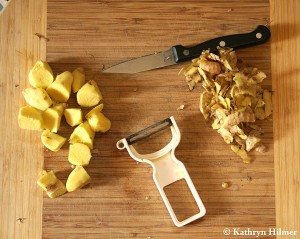 Traditional turkey sandwiches are one of my favorite things. But it is possible to get tired of your favorite things, so be creative and mix it up.
Here are two recipes to use with leftover chicken or turkey: ginger chicken salad and curry chicken salad. We like to make extra so we can have quick-fix lunches all week. Other favorites: turkey-noodle soup, turkey pot pie and turkey curry over rice.
Thanksgiving aside though, leftovers are something we have to deal with all year round. Casseroles are tricky. Like that lasagna… I can't exactly deconstruct it and turn it into something else. If you made too much, try freezing it. If you have a normal-sized, functioning freezer (I envy you), possibilities are endless. Mark Bittman will show you how, here.
There's more hope though, for food that hasn't been jumbled all together. Store it separately and you'll be able to use it in several different dishes over the next few days.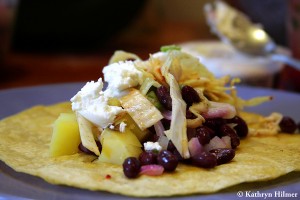 Yesterday's steamed broccoli can be topping for today's baked potato. Also, leftover corn-on-the-cob doesn't have to remain on-the-cob! Think about it. Have a kitchen epiphany. For tips on storing leftovers, check out this article.
I find that most times, the trick is to find the right vehicle for your leftovers. I love to use bell peppers. A lot of stuff can be filling for stuffed peppers: meat, veggies, rice, you name it. And tacos? Not just for beef and chicken. Try filling soft corn or flour tortillas with other things—the other day we had sweet potato tacos with cabbage, red onion, and goat cheese (inspired by this recipe). Or, if you've got extra veggies, cheese, and chips, you can always make some quick nachos.
Crepes are a great vehicle. Forget the haughty French stereotype—they are easy to make and awesome to eat. Somewhere between a pancake and a flour tortilla, they can be savory or sweet and go with all sorts of fillings and sauces.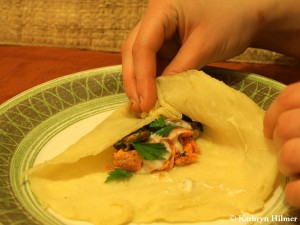 My favorite filling is a mix of green apple, chicken, and gouda cheese. Also great with broccoli, cheddar, and sausage. Here's one recipe for basic crepes. Try different fillings. Use a non-stick pan!
And of course, pasta, rice, and bread are perfect vehicles. Don't forget soup! I love inventing soup. It's easy, versatile, and delicious. And recipes are all over the web. Do a google search: "ingredients in your fridge" + "soup recipe."
You will be able to eat more cheaply if you use what you already have. One trick to doing this is  to not forget what you already have. It's easy for us because our fridge is small and we've done away with a lot of the sauces and condiments that usually clutter up the thing.
But in a bigger household, when you tuck your leftovers into the back of the fridge, you might think about putting a post-it on the door—something like "use up old celery" or "Don't forget the tomato sauce!" And, as mentioned in the last article, constructing a meal using what you have is easy when you have all the essentials handy.
Do you have something in your fridge you don't know what to do with? I'd be happy to give you some ideas, or to hear some of yours!