Cascade Effect: an unforeseen chain of events due to an act affecting a system.
Cascade Effect: a sequence of events in which each produces the circumstances necessary for the initiation of the next.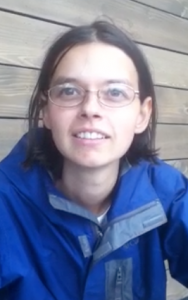 Christina Hahs is a sprite with a direct stare. Even at the age of 27 she is not one of the youngest farmers in the City of Seattle. In the egalitarian context of urban agriculture it would be wrong to describe her with any other superlative or enumerator but she is, on her own, guiding a group known as the Harvest Collective. These are 7-8 farmers in South and West Seattle who are creating a networked food source.
Christina oversees vegetable gardens in five homeowners' yards in West Seattle including her own – growing tomatoes, eggplant, kale, peppers, lettuce cucumbers, squash and more – and selling them when she can. In this, her first summer with the collective she has sold food at Marra Farms Stand in South Park, at a spontaneously organized Skyway Farmers Market and to the Delridge Produce Coop Buyers Club.
This has proven to be a much more manageable model than the first year of Harvest Collective in which members were more widely dispersed throughout Seattle and found their production didn't provide enough produce to share among the collective members. Christina calls the current configuration "Harvest Collective 2.0."
It has not been an easy year, however. Urban farmers have not been free from the challenges that other western Washington farmers confronted with the weather. (See my article about the Shoulder Season from the beginning of the summer on GoodFood World.) Christina cited Cliff Mass, a local revered meteorologist who confirmed it on his blog post The Cold Truth.  High cloud cover and low average temperatures made it the coldest summer in 60 years.
Listen to Christine Hahs talk about the weather: Christina Hahs: You Can't Count on the Weather
The growing season started very late due to the overcast cold wet weather. Temperatures didn't reach above 80° for most of the summer and powdery mildew caused her to have to pull up some kale. Powdery mildew looks like a white dust on plants that we often see even on dandelions.
 The Nemeses of 2011: Slugs and Powdery Mildew
It occurs when water stays on plants over cool nights. Crops that survived the mildew, in any case, were up to a month late and farmers had little to bring to markets. The ultimate appearance of the sun then caused some lettuce to bolt, a very short harvest window and desperate attempts to sell quickly. Berries came and went with some people never having a chance to eat any! Others canned and preserved more than ever to take care of the sudden bounty of fruit.
I asked Christina what her biggest challenge was though and she said, "Pests!" By that she meant slugs, potato bugs, earwigs and other "primary decomposers" whose position in the plant ecosystem is to start breakdown of plants. Their populations were high this year due to cooler weather and the ground staying wet.
Christina describes one of her nemeses: Powdery Mildew
Usually slugs leave when the ground dries up; as it typically does in Northwest summers. But this year they stuck around. Despite covering the ground with cardboard and feeding a lot of slugs to chickens, the primary decomposers persisted. Baby plants are very tasty to slugs and because the weather allowed them to stay in the pantry, as it were, they ate a lot of produce as plant starts.
Considering that the trends in weather in western Washington indicate that cool summers may be in a sustained pattern for a few years I asked Christina what she planned to do next year. "Right," she said. "We can't count on the weather." This year, she had planted greens that would end their rotation in June and then anticipated a subsequent harvest of the warm crops for July and beyond but those were a month late. She kept in the ground and marketed the greens that finally matured as long as she could but they eventually bolted. For a while, she had little to market.
Now, she and the other farmers in the collective are preparing for a different year next year. Their strategy is to plan for the greens and cooler weather crops to last longer and plant less of the warm crops like tomatoes. Thinking of Climate Change, I asked if that was what she would consider an "adaptive approach." She said, "Absolutely!"
The cascading effect from this past winter's weather has lasted, so far, into this fall and to next year's plan for Harvest Collective as they try to develop a planting cycle that allows them to have marketable produce throughout next summer.
Harvest Collective 2.0: Year 2.0 – We all wish you the best!