Provender… the simple definition is food. From October 6-8, Provender meant a gathering of hundreds of people who grow, harvest, prepare, and love good, healthy local food. There are few events with the energy level, connection, and camaraderie that Provender Alliance's annual conference delivered.
Take a virtual tour here and see what Provender conference was like.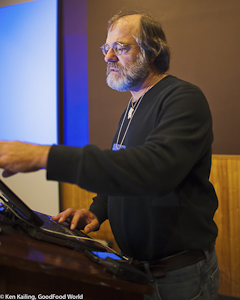 Three very different keynote speakers informed and entertained the audience.
Paul Stamets, Fungi Perfecti: If you've never heard Paul speak, you are missing an amazing opportunity! First, you will see no "alphabet soup" behind his name. Stamets is not a medical doctor, he doesn't have a PhD; in fact he is former logger turned scanning-electron microscopist, author, and one of the most unique thinkers of our time.
Stamet's company, Fungi Perfecti, offers organic mushroom cultivation kits and supplies, natural supplements made from mushroom mycelium and fruiting bodies, food products like truffles, truffle oil, and dried mushrooms, as well as MycorestorationSM seminars teaching the use of fungi to help repair or restore ecologically harmed habitats.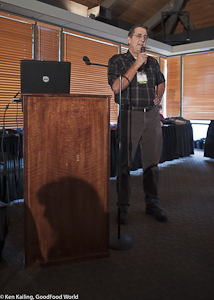 Stephen Jones, Plant Breeder/Director, Northwestern Washington Research and Extension Center, Washington State University: Jones is passionate about rebuilding the local food system around grains in western Washington. The small grain movement in the US has shown that not only are grains back, but they bring with them the sense and taste of a region.
Steve and his team have located 163 of the 165 grains grown in the Pacific Northwest 100 years ago. By Concentrating on the most successful varieties, he is helping revitalize small farms and add value to the farms, the grain, and the small communities where they are located.
Jesse Ziff Cool, restaurateur/author: Jesse regaled the audience with stories of her life in the food business and how she started five unique restaurants – three of which she still owns today in the San Francisco Bay area – and has supported sustainable agriculture and local family farms for over 35 years.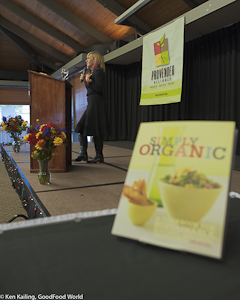 Ms. Cool is also the author of seven cookbooks, including Simply Organic: A Cookbook for Sustainable, Seasonal, and Local Ingredients, copies of which were available at the event.
The conference started every morning with early morning yoga and breakfast at 7 AM and ran until late each evening. Workshops ranged from business succession planning and the foundations of sustainability to "getting real about local food" and finding financial partners for your business.
While many food-related conferences are anchored by terrific meals, Provender also threw in something special: the Snack Room, which was full of snacks including fresh fruit, yogurt and kefir, chips, and fair trade chocolate, coffee, and tea. Open nearly around the clock, no one had to go hungry or thirsty at any time during the event.
Be sure to put Provender Conference on the calendar for next year!