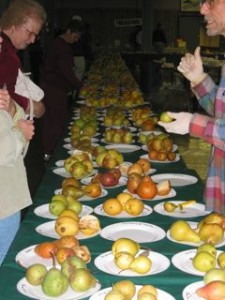 Taste hundreds of apple varieties at the All About Fruit Show.
Imagine a big room full of tables, each covered with samples of apples, pears, and grapes ready for you to taste. Dedicated volunteers will have worked many hours going to orchards all over Western Oregon (and maybe further?) to harvest all this fruit. Each variety is labeled and volunteers will slice the fruit you want to taste. Best to bring a note pad and paper if you want to remember the ones you REALLY liked, because after tasting dozens of delicious fruit it will be hard to recollect which was which.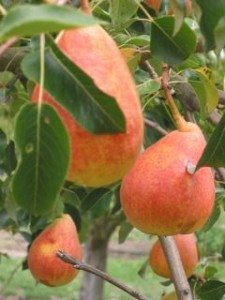 Every fall the members of Home Orchard Society puts on this huge fruit show. You can learn a lot at these events even if you're an experienced fruit grower and lots of people come every year to cruise the varieties and taste new ones, check out the latest books, and attend a lecture on some new twist in fruit growing.
There will be lots of related information and goodies available and several booths of fruit for sale. If you have fruit from a tree of unknown variety you can bring a sample of the fruit (at least 2 is best) and leaves. A table of experts will identify your fruit for you.
The All About Fruit Show is on October 15th and16th. The hours are 10-4 and the location is the Canby Fairgrounds (or Event Center as the sign says now). On Saturday at 11 AM there will be a class offered in which two experts will answer questions. Wow, your own consultation! At 12:30 the topic is Heirloom Apples. On Sunday the classes will be Espalier Training at 11 AM, and Unusual Fruits at 1 PM.
You can get the complete info at www.homeorchardsociety.org.
________________________________________
About Susan W. Clark
Susan W. Clark is a freelance writer and photographer focusing on sustainability. She lives on an organic farm near Canby, Oregon. Her blog, publication list, and clips are available here.
(Photo credit: Susan W. Clark)