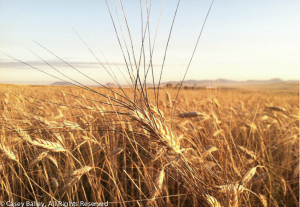 OK, folks, I had my first combine ride thanks to Casey Bailey! Complete with a pronghorn antelope in close observation!
Casey raises organic Kamut®, wheat, and hull-less barley on 1000+ acres of rolling hills outside of Fort Benton MT. Perched on the banks of the Missouri River, Fort Benton is also the home of the Montana Flour and Grains mill and seed cleaning facility where Casey has his grain processed.
We arrived at the Bailey homestead on a bright sunny morning and were greeted by cats – several cats – including a lovely black fellow named Snowflake. And we were also graciously offered our choice of kittens – take several, please – to take home. Unfortunately we had to pass…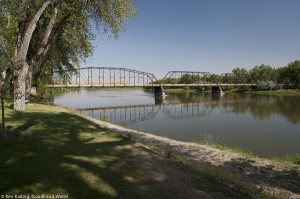 The nearly 3500 acres belonging to Casey and his father take some pretty big horsepower to plow and harvest, and the combine on which I rode was big and very high tech. With a GPS system on board, it is possible to plow on an exact north/south transect and then, when the crop is ready, to harvest on the same transect and let the system drive itself! The amount of grain is weighed as it's harvested and a special sensor continually checks the moisture in the seed.
Next stop – lentils!