When you think of Bath, England, you mostly think of the ancient Roman Baths or stately Georgian architecture. That is, if you think of anything at all besides claw foot tubs and jokes about drinking the bathwater. You most certainly don't think of a thriving food system and underground guerilla gardening. Surprisingly, this is exactly what you find in this UNESCO World Heritage site tucked away between the edges of the rolling hills of the Cotswolds and the Monolithic Stonehenge. In a town with more churches, tea shoppes, and outdoor gear suppliers than grocery stores we thought it would take going on quite an adventure off the beaten path to search out some good produce, but what we happened upon on our first day most certainly changed our opinions.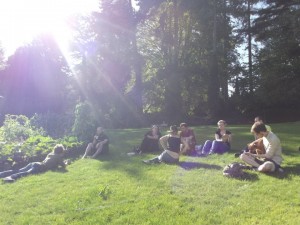 We had just ordered some fish and chips, wrapped in the traditional newspaper and doused heavily with vinegar, and decided to go sit in the park across the street to eat. After walking around exploring the town all day a bit of rest and relaxation sounded nice, and as we got closer we noticed that the large center garden was actually full of vegetables and towering sunflowers instead of the typical shrubbery and ornamentals of classic English gardens.
Marveling the edible garden as we ate I noticed gorgeous squash blossoms nearly exploding from the thriving vines that draped their wide leaves over the woven wattle fence, underneath which a perfect emerald green zucchini was barely visible. It almost looked as if it was under a giant skirt. Caught up in the oasis I barely heard the question asked of me:
"Would you like some vegetables?"
I nearly jumped as I looked over and saw a woman in her early twenties, blonde and not much taller than myself, holding a trowel in one hand and a reusable shopping bag in the other. A little dumbstruck but trained as a gardener to always answer yes to such questions, I did just that. She smiled and looked back at the garden.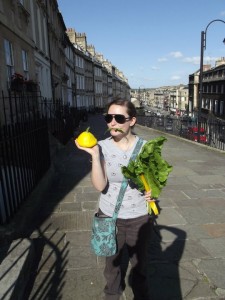 "Perhaps a courgette? They're particularly good right now." She said as she put down her tools, reached over a few plants, picked the same zucchini I had noticed earlier and offered it to me. As I took it she turned to her companion, a sprightly middle aged man I just then noticed amidst the pole beans, and exclaimed:
"That's not enough! That's your dinner – take more than that! They'll be hiding at the bottom… see?" as she stepped over and plucked a bean from the flurry of leaves at the bottom of the towering plant. I followed her and picked beans, striking up a conversation as we went. As it turned out, Iva and Kim were involved in Transition Bath and as a part of the grouping of projects geared towards "build[ing] a sustainable future by harnessing the power of community in the face of declining natural resources and increasing fuel and food costs" they had taken on some guerrilla gardening.
Since installing the garden in May, it had garnered some attention and the two had come by to do some light weeding, and to gather dinner of course, before the garden was photographed for an article in Bath Life Magazine. They mentioned that I was welcome to come by and join in on the work party the next day, and as I would still be in town I gladly said yes. Trading emails and planning to talk more in the very near future I started to leave when Iva shouted:
"Oh! Here, take a pumpkin!" I must have looked a bit perplexed until she handed me a bright yellow sunburst squash, I suppose some things get a bit lost in translation! The message itself however remains the same, growing good food grows good community. We saw it again as we stumbled upon another little garden the next day while taking a walking tour that led us down the historic Gravel Path. Amidst the purple pole beans, the succulent squash vines, and the delicate strawberry runners there was a simple sign:
Free to Grow & Pick!
transitionbath.org
(The courgettes are yummy!)
And indeed, they were.
Read more at Transition Bath and Green Vision and Our Guerrilla Gardening. You can also search "Vegmead Bath."
________________________________________
About Terri Gardner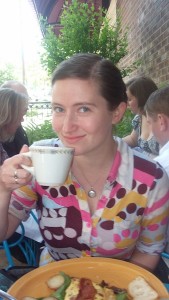 Terri is a self-proclaimed bibliophile, traveler, plant nerd and gardener. She is ultimately propelled by her love of life, laughter, and good food. Born in Mexico she moved to North Carolina at age 8 and lived there until graduating with an International Studies/Anthropology degree from the University of NC at Greensboro in 2009. Afterwards, she moved to Seattle to go to grad school and has recently graduated with an MA in Food Systems and Permaculture from Antioch University Seattle.
She has always been fascinated with plants and food and has been connecting the two through garden instruction for the past 4 years. Terri is also a Master Composter/Soil Builder certified through Seattle Tilth and has been spreading the word about healthy soil and composting through farmer's markets, schools, and festivals. She also used this experience in her academic life, as a part of her thesis project on Permaculture and Social Change she wrote a vermicomposting curriculum for Seattle Parks and Recreation which is currently being used in their Parks Urban Food Systems (PUFS) pilot program.
Most recently she worked with Readers to Eaters, a mobile bookstore and publisher that focuses on food literacy, which solidified her desire to write about the political and social aspects of agricultural systems. Over the next four months she will be in Europe conducting independent research on international food culture. Specifically she will be looking at the connections between personal connections to food, food as a commodity, and the agricultural production of what we eat in different countries. She will be documenting her work through film and the written word. You can find out more on her site, Modern Bohemic, and look out for updates!