Heidi Norman Wise and her husband John moved from Minneapolis to a small farm in rural Wisconsin to live their dream. Heidi is a former corporate communications director who left a steady paycheck and benefits to start a business with her husband in dairy farming and hospitality. Together they currently manage a herd of 82 cows and 20 calves. In addition, Heidi and John are building their hospitality business with an on-farm guesthouse they plan to open to the public.
You know those people who were always clear about what they wanted to be when they grew up? The kids who excitedly declared their firm commitment to becoming a doctor, astronaut, or firefighter? And then they grew up to be exactly that?
I am not of those people. And yet…
Back in my Minneapolis junior high school, I took the Strong Interest Inventory. The whole class took it. I'm not sure about the purpose. Were we supposed to start picking our life's occupation when we were 13? I know they do that for 3-year-olds today, but it was a different time back in the '70s. We were a lot less ambitious.
Anyway, I don't remember much of anything about the results except this: My highest-scoring interest area was "Farmer." Seriously. It was off-the charts high. Then again, many of my classmates got the same result. We all had a good laugh and decided that the entire test was suspect because, well, who becomes a farmer?
Thus my journey into farming began. And I didn't even realize it.
(Heidi Norman Wise)

Here is their story; the good, the bad, and the ugly.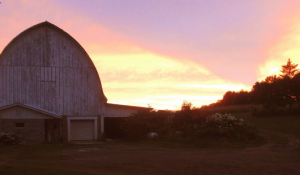 March 31, 2010: We signed a purchase agreement for a farm in Chetek, Wisconsin, and officially put our house on the market today! Here's hoping our home sells quickly so we can focus on setting up our dairy.
May 5, 2010: Happy to report that we sold our home! Closing May 27. Close on farm May 28. Scary-tastic!
June 2, 2010: Love the views on our farm, which we moved to on May 28. Tranquility personified.
June 21, 2010: Feel a sense of progress with our farm, but know it's a long road. Ups: parlor construction is on track; found a herd of 70 cows/heifers; bought a riding lawn mower; bought a Gator for less than expected. Downs: most everything else costs more than expected; lawn mower died yesterday; John hit a fawn coming home last week (welcome to Wisconsin, the land of a billion deer). Up: family and friends arrive this week!
August 10, 2010: The heifers have arrived! Surprisingly calm and orderly exit from the truck. They were content to watch the refrigeration guy — whose legs were sticking out a window — most of the afternoon.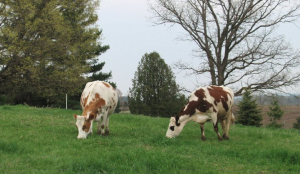 August 13, 2010: I am officially a dairy farmer. We had our first milkings today. 17 cows this AM; 32 this PM. Not pretty. Heavy thunderstorms at both milkings. Soaking wet; caked with manure. Wanted to get photos, but figured my camera would not survive. Feel like I need to shower twice a day. On the bright side, the milk inspector approved us for Grade A Fancy Brand cheese, here we come!
August 15, 2010: Aw, heck: Moving heifers. Wind blows gate shut as they approach. They spook and speed off toward cows, who are now speeding toward heifers. One wire between them. Wire not hot. Much mooing. Disaster imminent. Tears (me). I think they took pity. Started moving in right direction. Ended well, but exhausting.
August 29, 2010: Can't believe we made it through this week. It was rough. Cows' production dropped. Hours on end in the parlor. No time available to improve our situation. Little sleep. The beginnings of carpal tunnel syndrome. But hope came in the form of our banker (believe it!) and two good milkings in a row.
September 17, 2010: We got our first milk check today! We're in business for real now. Tomorrow: Operation Tiger.
September 18, 2010: Operation Tiger = Get new cow (Tiger) in with the milk cows, and put her calf (Eve) in a hutch so we can start calf care. Result? Qualified success. Eve is in her hutch and Tiger got milked. BUT: Eve fought the bottle, Tiger kept getting loose and stepped on my foot (yowza), and milking dragged on for 3 hours while we dealt with all of this. Morning is going to come fast. Wait…it already is morning…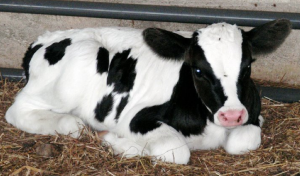 September 29, 2010: Memo to our cows: If you decide to come up to the barn on your own close to milking time, please refrain from returning to your pasture half a mile away *just before* we actually want you in the barn. Thank you for your cooperation.
October 17, 2010: Note to self: Do not store 5-lb bags of rice in the basement where mice can get in them and steal half. I hope it was more than one mouse because I don't want to meet one that has the capacity to eat 2.5 lbs of rice.
November 3, 2010: Don't you just hate when you discover a wee bit of dried cow manure on your ear *after* you've showered?
November 20, 2010: OK, so milking is going along swimmingly when suddenly several girls let loose. John's calm; I'm calm. What's their problem? Then I see a tiny mouse scurrying along the wall. Huh. And I thought mice just scared elephants.
December 18, 2010: Looked up from lunch to see a big, black cow standing in the yard. Someone must have left a gate open. Good thing it was an older cow that knew how to follow instructions when I insisted she go back to the herd.
December 22, 2010: We sold our first cow today. Sad/glad. Sad: we spent nearly 3 weeks working with her, she's a fairly nice cow, and she milks well. Glad: she was dangerous at milking time – kicked hard every time we got near her udder. Decided the risk of hospital time or reconstructive surgery was greater than risk of losing her milk.
Next week we see what 2011 has to bring – and celebrate the first anniversary of the farm!
Read more about A Wise Choice Dairy & Farmstay.