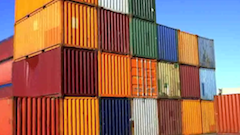 Those of us who live in Puget Sound are really familiar with the acres of shipping containers stored around the port. So why are there so many stacked in the yard?
Simple – we get so many full ones and need so few empty ones. It costs the manufacturer nearly $1000 to have an empty container returned; sort of an ocean going "dead head." Truckers don't like driving an empty trailer back to their home base either.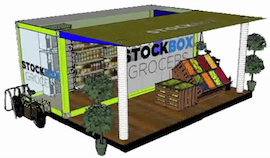 So what can you do with an shipping container? It turns out there are all kinds of uses and the best one I've seen yet is to turn them into corner grocery stores.
Carrie Ferrence and Jacqueline Gjurgevich discovered that reclaimed shipping containers would make perfect "mini food stores" that could be placed in available parking lots. The MBA project, launched at Washington's Bainbridge Graduate Institute, resulted in a new business, "Stockbox Groceries."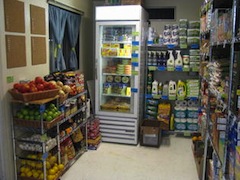 The first one – much like pop-up retail stores appearing across the country – has opened in a south Seattle food desert: a Delridge neighborhood apartment complex parking lot. The store will be open 7 days a week until the end of November, and Stockbox Groceries is already looking for a permanent location.
Read more: In its previous life, this corner grocery was a shipping container.