If you're from the upper Midwest, you're especially familiar with the reputation of one of Chicago's most notorious public housing developments: Cabrini-Green. Although the city had a number of these developments scattered throughout the city, this one became a symbol of all the things urban renewal should NOT be.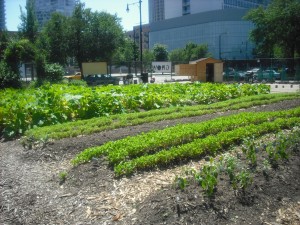 "During the worst years of Cabrini-Green's problems, vandalism increased substantially. Gang members and miscreants covered interior walls with graffiti and damaged doors, windows, and elevators. Rat and cockroach infestations were commonplace, rotting garbage stacked up in clogged trash chutes, and basic utilities often malfunctioned and were left unrepaired. On the exterior, boarded-up windows, burned-out areas of the facade, and pavement instead of green space – all in the name of economizing on maintenance – created an atmosphere of neglect and decay." (Thank you, Wikipedia.)
2011 marked the destruction of the remaining high-rise tower at Cabrini-Green and the development of the Chicago Lights Urban Farm in the neighborhood. The project is a community garden built in collaboration with Growing Power, a non-profit organization recognized nationally for its work in promoting urban farming.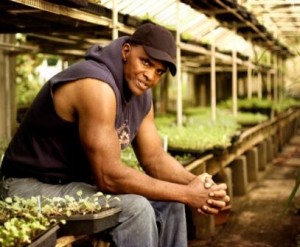 Will Allen, founder of Growing Power, is a big man – a really big man. After all, he is a former professional basketball player. But Walmart is the 800-pound gorilla when it comes to Big Food, and a $1 million donation to Growing Power is welcome money, but will it come with strings?
In urban ag circles, the donation represents the "buying" of good will and, some fear, "market share in the food justice movement."
On the other side of the equation, Erika Allen, Will's daughter, has become a strong force in her own right. Ms. Allen is the head of Growing Power's Chicago operations, and she has been pushing the mayor, Rahm Emanuel, and the City of Chicago, to modify zoning ordinances to allow farms in the city.
While we're not happy about Walmart's new marketing tactics, we can hope that eventually everything will come out in the wash. Money is money and we need it desperately to open the door to supportable urban agriculture as business enterprise and community action.

People like Will and Erika Allen have been able to convince Chicago's politicians that for-profit businesses like urban farms can be an economic engine, not just for the farmers and their employees, but for the city in the form of tax revenues.
A well-functioning urban land use policy will allow small farms and food related businesses to put people to work, to generate income, and to pay taxes.
As Ms. Allen told Chicago's Judith Nemes of Crain's Business:
"You can have someone in a warehouse doing urban farming employing only one person running a hydroponic system. But in our Iron Street Farm, for example, we have 15 full-time and 15 part-time, and we've barely started growing there. There isn't a lot of growth in the traditional job sector, but people engaged here can have a direct connection to with the marketplace, and that's really attractive to a lot of people now."
It will take financing and investment for small farmers to get started. The donation from Walmart will provide a revolving loan program for people who go through the Growing Power urban agriculture program and there are other sources of loans such as Whole Foods Market's Local Producer Loan Program (LPLP) and the USDA's Farm Service Agency loans.
This is a big donation; when the money is gone, what strings will come with the next check? Will Walmart co-opt Growing Power for its own interests? Will Walmart use programs like these to lock in local contract suppliers for their stores? Will the company squeeze the very farmers it says it supports to keep their prices low? Is Will Allen going to have to arm wrestle the 800-pound gorilla to keep Growing Power independent?
We just have to wait and see.