Introduction: I decided I wanted to trace all the ingredients of my homemade carrot cake, from ground to place, and write a book about it. In this excerpt from The Carrot Cake, I talk about what I discovered about carrot production.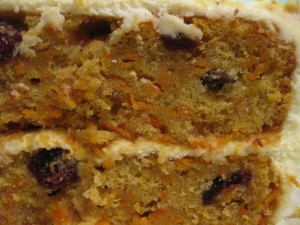 ________________________________________
I eat carrots, in one form or another, almost every day. When I was a kid, we grew carrots in our garden.
Hardly anything sweeter than a carrot pulled up fresh from the soil. Dust it off or run it under the faucet and then bite into it. Mmmmm!
Americans seem to love carrots, too.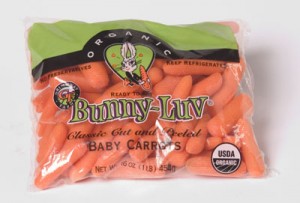 Carrot consumption spiked in the 1980s after grower Mike Yurosek began shaving and shaping carrots he would have normally thrown out, packaging them, and marketing them as "baby carrots." (No, they aren't actually baby carrots. But you knew that, right?) In 1997, we were eating 18.2 pounds of carrots per person. (At least, we were buying that much.) As of 2004, it's a little over 11.9 pounds per person.
China produces 34% of the carrots in the world, the most of any single country, followed by Russia and the U.S. which both produce about 7%. The farm value of the U.S. carrot market is over a half a billion dollars a year.
Thirteen percent of the carrot crop in the U.S. is organic. This doesn't sound like much, but the corn and soybeans crops are only 0.2% organic each. Five percent of the apple crop is organic.
Carrots were probably brought to the United States by the Jamestown crew in the seventeenth century.
Legend has it that George Washington ate carrot tea cake in a Fraunces Tavern in New York at the end of the revolutionary war.
Thomas Jefferson grew carrots at Monticello.
Good to know, right?
Mae West apparently once said, "I never worry about diets. The only carrots that interest me are the number you get in a diamond."
I talked about carrots with Sally Sauter, a farmer I knew in the Columbia River Gorge who ran a CSA.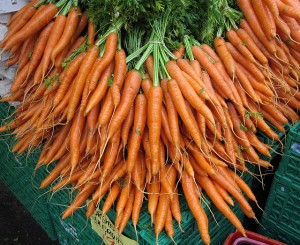 She told me carrots needed good soil that drains. They liked light soil. She couldn't transplant them as starts because the tap root couldn't be disturbed once it was started, so she had to wait until the soil is about 70 degrees and then plant the carrots from seed. Once they started coming up, she had to be assiduous about thinning them.
Sally said, "The thing to understand about carrots is that people can detect the difference in quality and taste in carrots."
In her experience, this was different from most vegetables, except possibly for the tomato.
Sally didn't grow a lot of carrots, but when she did, her CSA clients appreciated them. She remembered delivering a box of veggies to a family once and a little girl came running up to look in the box. When she saw the carrots, she got very excited. There they were with "their green frothy tops and their big orange roots." The little girl cried, "Carrrrrottttts!!" as reached out for them.
I asked Sally how she harvested the carrots once they were ready. I had seen a video of a small farmer loosening the soil with his shovel before grabbing a handful of the tops and pulling a bunch up. Sally said she just pulled them up by the tops since she had good loose soil.
Now I knew how a small farmer grew and harvested carrots. How did other farmers plant carrots?
I called Grimmway Farms, one of the big three carrot producers in California, and asked how growers with bigger farms planted carrots. They told me they use a planter machine. The guy I talked with didn't know what it was called, so I searched around for a bit and found Sutton Agricultural Enterprises, Inc. in California: They sold Stanhay "precision seeders."
I called them and asked if they could explain how these seeders work. A nice man, whose named I neglected to get, told me that if a grower was most concerned with density he would use one kind of seeder and someone who was most concerned with accuracy would get a different kind. Assembly line planting, either a bit scattered (density) or all in a straight line (accuracy).
Once the carrots were ready, how did did the farmers harvest them if they wanted the tops left on? They were all harvested by hand.
This surprised me. I assumed most of the carrot harvest was done by hand.
It turned out, lots of carrots were harvested by machine: These are the cello carrots.
________________________________________
Next time, in Part 2, I'll tell you more about how "cello" carrots get from the ground to your table.
About Kim Antieau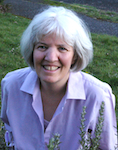 Kim Antieau lives in the Columbia River Gorge in a small town in Washington state. She has a graduate certificate in Sustainable Food Systems and Permaculture Design from Antioch University in Seattle.
Kim is a novelist, researcher, activist, and librarian. She is the author of several published books, including eight novels. Not surprisingly, many of her novels revolve around food and community and Kim recently launched the Skamania Permaculture Guild.
Her new novel, The Fish Wife, is due out this fall. Kim is currently working on The Carrot Cake Book and the novel Butch.
Visit her website at www.kimantieau.com.