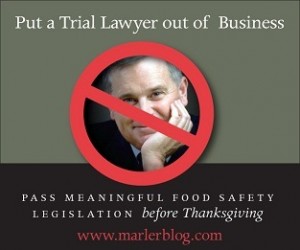 Good food is not just better for the environment, the people who grow it, and the people who eat it; it is also safe food. Good food should not make you sick.
Bill Marler, a nationally recognized food safety attorney, has spent his career lobbying for regulations to protect consumers from food-borne illnesses; educating food processors, handlers, and consumers about food safety; and representing families and individuals affected by contaminated food products.
Starting with a campaign launched in 2002, Marler has continued to push our food system to improve the way they handle food products and put him out of business! "I respectfully suggest that safe food is a vital part of health care.  After all, every year 76 million Americans are sickened by food-borne illness; 325,000 of them require hospitalization and 5,000 die.  Imagine lifting that load from the health care system, not to mention from the shoulders of American families and businesses.  It really is long past time to put me out of business," said Bill in an Op Ed piece published nine years ago today, August 4, 2002.
Here's what he had to say in a recent interview with GoodFood World:
Put Bill Marler Out of Business
Small, conscientious local producers and processors are much less likely to infect anyone and, in the rare event something occurs, it is easily traced and the error more readily corrected.
Nonetheless, small operators are often placed under as intense scrutiny as the huge production plants where simple errors can become compounded in a hurry. Logic shows there is resilience and safety in diverse agriculture operations spread out over the landscape.
And when the smaller operations are managed by local people who share a vested interest with their customers, the product is likely to convey their sentiment. Once, it may have been called "tender loving care."