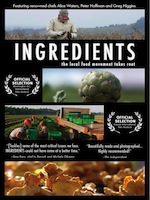 Ingredients: The Local Food Movement Takes Root, directed by Robert Bates (2009)
Ingredients is a beautifully-photographed, positive look at the good food system. It raises a lot of points about sustainable food and sustainable production that demonstrate the importance of the local food movement. If you are looking to "buy local," the film will definitely help you think about local possibilities.
As a good counter-balance to Food Inc., King Corn, and The World According to Monsanto, pick up a copy of Ingredients and Truck Farm. You'll see innovative farm-to-table programs in New York – from Harlem to the Bronx – and hear from world-class chefs like Alice Waters and Greg Higgins.
Click on the cover to buy this video.