(1970)
February 24 – Balmy days, and as I came back from doing chores in the morning, I heard bluebirds singing, a welcome sound that gave promise of a very early spring!
March 12 – Planted flats of celery, cabbage, cauliflower, and some individual pots of tomatoes, and peppers, to start on the enclosed south porch. The cold frame was planted a couple weeks later.
March 16 –  A beautiful day, I just had to do laundry and hang the sheets out to dry in the sun. I walked out to meet Lisa when she was coming from the school bus, and we saw and heard the first robin. The red wings had shown up a couple days earlier, and we loved hearing their cheerful "Oakalee" again. Then, when we were taking the clothes down from the line, we heard the first meadowlark singing his liquid little melody, a very nice day!
April – Eight ewes were lambing. They produced  twelve lambs. By practically sleeping in the barn for two weeks to solve all the individual problems, of which there were plenty, all twelve lambs survived and were accepted by their mothers. For once there were no bottle lambs! Although we did have to supplement Snicklefritz's twin ewes, Poteet and Poquito, for a short stint, as she is the ewe who lost one teat to the sheep shearer in a previous year. However, she took over, and managed to raise them both on one teat, and do a good job of it.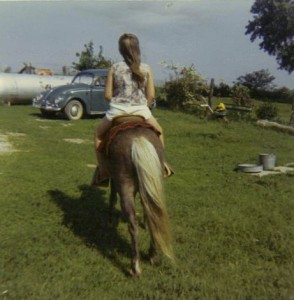 June – We, at last, found a pony for Lisa, a beautiful five year old chestnut gelding, with a million dollar disposition. Lisa named him "Big Fellow," but mostly he was just called "Pony." There was a constant parade of kids coming over to ride horseback. A little neighbor girl was here spending the afternoon and night, and they rode all afternoon, with the exception of a short time which they spent picking gooseberries for me at the back end of the farm. Of course, they rode out there and back!
I am really thankful we were able to find such an excellent pony.  He patiently put up with all the kids , and was a lot smarter than the kids, actually. With the littlest ones, he only went at a walk, no matter how much urging he got to go fast, but with the bigger ones who could ride pretty well, he gave them a good gallop.
In addition to the pony, we had a total of 23 sheep, 130 chickens, a cat, and 4 dogs. Thirty of the chickens were banties, and banty/leghorn crosses, which produced plenty of fresh eggs for us to enjoy, as well as some to sell. The other one hundred chickens were a collaborative effort with a friend. We purchased the chicks together, he bought the feed, and I fed and cared for the chicks. When they reached about three pounds, he and his brother came out, and we all butchered chickens, divided them up, stocked up the freezer, and enjoyed wonderful eating!
The summer passed all too quickly. We had two huge gardens, with radishes, onions, leaf lettuce, head lettuce, endive, chard, kale, carrots, celery,  fennel, cabbage, cauliflower, kohlrabi, green beans, sweet corn, potatoes, tomatoes, okra, peppers, cucumbers, squash, asparagus, rhubarb, and raspberries.
By September, I was still canning tomatoes, and making pickles of all sorts, but most of the preserving was done, except to store the carrots, and dig the potatoes. It was quite a relief when fall finally arrived, and I could take a break for awhile… but I still loved my gardening!
I had not felt well through most of the gardening and canning season, and was having a few small hemorrhages, but nothing drastic. However, I finally made it to our local doctor. She gave me a physical and also a pregnancy test… it was positive!  At the age of forty-four, and with all the early troubles, I didn't have much hope of a successful pregnancy, but my apple picking friend, Carol, said, "You have to go to Dr. Meis at St. Francis Hospital in La Crosse, where you will get good care!" I took her advice, and Dr. Meis was truly a wonderful caring doctor.
1971 – I was doing quite well through January, the baby was not due until about March 10. Then on the night of February 2, in the worst winter anyone could remember, suddenly, my water broke at 10:00 pm.  We were totally snowed in! It was five weeks too early, and we were not expecting that we would need to get out!
Fortunately, the new phone line had been installed the previous fall, so we had a phone that worked, and could call for help to get our road opened! First came a big dump truck with a snow plow, but they could not get through the hard packed drifts which filled our driveway, bank to bank.  Someone then brought a larger machine, but that couldn't get through either.
Finally, the Comstocks, who had the contract for road grading for the county, brought the Highway Department's huge grader with a plow, and that got through about midnight. Keith was operating the grader, and Neil, his dad and a friend were standing by with Neil's car all warmed up.
Once they got the road open to the house, Neil said, "Come on, my car is ll warmed up, I 'll take you to the hospital." So, away we went! Jerry, of course, couldn't leave, as he had to stay with Lisa and get her situated with friends or relatives in the morning.
I was having contractions a few minutes apart, but not too bad.  As we neared Hokah, I noticed Neil looking at his dashboard a lot. When we reached Hokah, where everything was closed, he said his alternator light had come on. I'm sure he was feeling pretty panicky at the thought that he might be delivering a premature baby somewhere between Hokah and La Crosse! But he got me safely to the hospital, and almost as soon as I was settled in my room, my contractions stopped, and nothing happened.
I was really tired and when the pains stopped I just kept falling asleep. The doctor and nurses kept waking me up and giving me something to start labor again. They were worried that too much time had elapsed since the water broke, and were concerned about infection. Nothing they gave me to start labor worked, so in between shots and whatever, I would sleep. Jerry had been there for quite a long time, but had gone home to do chores and was coming back.
Late in the day on the 3rd, they said they had something that would definitely do it, but wanted to give Jerry time to get back before administering it. About 7:30 pm, they gave me whatever it was, and that really worked, and at 8:00 pm, just as I was headed for the delivery room, Jerry came and kissed me as they wheeled me into delivery. Sean was born at 8:30 pm on the 3rd of February.
We always claimed that he should have been born on Ground Hog's Day, but saw his shadow and went back in.