(Copyright by – and reprinted with permission from – Center for Rural Affairs,

www.cfra.org
)
In tough economic times, it's not unusual to see rural businesses close their doors. So the wide ray of hope shining from Wilmore, Kentucky, is nothing short of inspiring.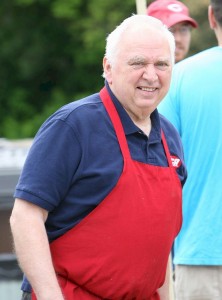 Center for Rural Affairs supporter Jay Leeson worried about the struggles of grocer Leonard Fitch and the Wilmore IGA his family has run since 1956. An idea struck him. Why not return some of the neighborliness to Mr. Fitch that he's shown to the people of Wilmore?
Fitch's Neighbors was born. The local grocery store now has a new look, courtesy of over 40 volunteers from Wilmore and nearby Nicholasville who have painted and updated the store inside and out. Fitch's Neighbors' next project is to update the inventory system.
Leeson points out, "I began to see that there was an inconsistency between how we felt about Mr. Fitch and where we did our shopping." Recognizing that healthy local businesses mean a vibrant community, residents are showing their loyalty. It's becoming taboo to shop at the big box store a few towns away. After all, who would wear the opposing team's colors to the homecoming football game?
Community volunteers have been the heart of the project's success. And it shows – the group has been featured in a variety of local and regional media stories over the past few months.
By highlighting the troubles the grocery store faced and giving community members a way to help, the residents of Wilmore are now invested in this local business. Since the project began, Mr. Fitch reports that his sales have been the best he's seen in a decade. Wilmore is showing how much they value having a grocery store in their community.
As we see from the example of Wilmore, KY, it doesn't take much – a sense of pride and enthusiasm for the community you live in gives a spark, and someone to coordinate the efforts. Is there a business in your community that needs a neighborly hand? Who is your community's Leonard Fitch?