At a time when consumers are getting more and more confused about the many labels that appear on their food, food processors are finding new ways to come up with more.

Marion Nestle, who keeps tabs on marketing misdeeds by industrial food producers, is perturbed with Perdue's latest "USDA Process Verified" label that is appearing on their poultry products. The Perdue label is just one more in a galaxy of labels appearing on packages, boxes, bottles, and even menus.
Eco-labels, as these are generally called, are a form of "transparency by proxy." As we look to know and understand more and more about where and how the food we eat comes from and is prepared, we are depending on third party agencies to ensure that someone knows that the products have been grown, harvested, prepared, and delivered in ways that match certain performance criteria or standards.
In contrast to "green" symbols or claim statements made by manufacturers and service providers, an eco-label is awarded by a third-party organization and has been audited, inspected, or in some other way examined to determine if all standards and criteria have been met.
How many of the following do you recognize? How many do you use on your products and services?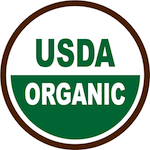 USDA Organic The U.S. Department of Agriculture has put in place a set of national standards that food labeled "organic" must meet, whether it is grown in the United States or imported from other countries. Organic meat, poultry, eggs, and dairy products come from animals that are given no antibiotics or growth hormones. Organic food is produced without using most conventional pesticides; fertilizers made with synthetic ingredients or sewage sludge; bioengineering; or ionizing radiation.
Oregon Tilth The purpose of organic certification is to ensure that the agreed upon conventions of organic agricultural systems are being practiced not only by growers, but also by all the people who handle and process organic food, feed and fiber on its journey to the consumer. As an accredited certifier, Oregon Tilth certifies to the USDA National Organic Program (NOP) standards. The NOP provides a system that combines strict production standards, on-site inspections, and legally binding contracts to protect the producers and buyers of organic products.

Fairtrade Fairtrade aims to reduce poverty by facilitating a "partnership" between producers, businesses and consumers. Fairtrade offers producers a better deal and improved terms of trade, allowing them the opportunity to improve their lives and plan for their future. Fairtrade also gives consumers a powerful way to reduce poverty through their everyday shopping. When a product carries the FAIRTRADE Certification Mark, it means the producers and traders have met Fairtrade Standards. Fairtrade Standards include social, environmental and economic criteria, as well progress requirements and terms of trade. The Standards are designed to support the sustainable development of small-scale producers and agricultural workers in the poorest countries in the world.
SPCA Certified SPCA Certified is a farm certification and food labeling program certifying farms to the BC SPCA's higher standard of farm animal welfare. The program includes annual inspections as well as random audits conducted by third-party professional Validators. An independent expert Review Panel reviews all documents pertaining to the inspections and determines farm certification status. The Standards are evidenced based and are developed by the BC SPCA with input from producers, veterinarians, and animal welfare and behaviour experts. The goals of the program are 1) Provide a certified assurance to consumers that animals from certified farms were raised according to high standards of welfare; 2) Facilitate and support evidence-based improvements to farm animal welfare standards; 3) Provide voluntary, third-party animal welfare certification services to the animal agriculture industry.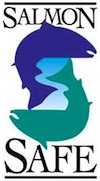 Salmon-Safe Salmon-Safe is an Oregon-based nonprofit that certifies urban and agricultural operations based on the protection of water quality and native biodiversity. Founded by a leading U.S. river and native fish conservation organization, Salmon-Safe has certified more than 350 West Coast farms, vineyards, dairies, corporate campuses, and other sites based on riparian habitat protection, elimination of chemical pesticides harmful to fish, restoration of wetlands, reducing run-off into streams, and other conservation practices.

Fair for Life "Fair for life" is a brand neutral third party certification program for social accountability and fair trade in agricultural, manufacturing and trading operations. The program complements existing fair trade certification systems. Social accountability and fair trade have become important indicators to select business partners in a global market place. Existing systems unfortunately exclude many agricultural, manufacturing and trading operations worldwide that practice social responsibility and fair trade from independent verification and certification of their performance.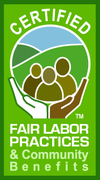 Fair Labor Practices and Community Benefits Social responsibility certification to complement Organic Fair Labor Practices and Community Benefits certification – developed by Scientific Certification Systems (SCS) in conjunction with key stakeholders – validates socially responsible practices in agricultural production and processing. Complementing organic and other environmental certifications, Fair Labor Practices is designed to meet the growing consumer demand for products produced in accordance with fair and equitable labor practices.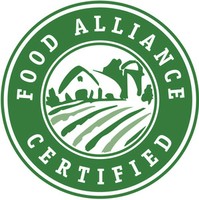 Food Alliance Certified Distinguishes farmers and ranchers who: provide safe and fair working conditions, provide healthy and humane treatment of animals; raise animals without added hormones and antibiotics; raise crops without genetically modified organisms; reduce pesticides usage and toxicity; conserve soil and water resources; preserve and protect wildlife habitat; and, commit to continuous improvement of these practices.

Green Table Founded in 2007, the Green Table Network is a mission-driven enterprise based in Vancouver, BC. Green Table is a growing group of leading restaurant professionals, joined by the people who supply and support them. Members are making a conscious commitment to a shared goal: a deliciously sustainable future. Sustainability is put "on the menu" through innovative solutions that measurably reduce the impact on our world.

Certified Naturally Grown Certified Naturally Grown is a Grassroots Alternative to the USDA's National Organic Program meant primarily for small farmers distributing through local channels – farmer's markets, roadside stands, local restaurants, Community Supported Agriculture (CSA) programs and small local grocery stores.

Rainforest Alliance Certified This ecolabel, as defined by the Rainforest Alliance, is a conservation tool whereby an independent, third party awards a seal of approval guaranteeing consumers that the products they are buying are the result of practices carried out according to a specific set of criteria balancing ecological, economic and social considerations.

American Humane Certified The American Humane Association created the first welfare certification program in the United States to ensure the humane treatment of farm animals. The American Humane ® Certified program, known as The Humane Touch, provides third-party, independent verification that certified producers' care and handling of farm animals meet the science-based animal welfare standards of American Humane. The American Humane Certified standards were built upon the accepted values of the Five Freedoms, as created by the Royal Society for the Prevention of Cruelty to Animals, as well as input from animal science experts, veterinarians, and other animal husbandry specialtists.

Bird Friendly Coffee Verifies through third-party, independent certification that coffee has been grown using shade management practices that provide good bird habitats. Only allows organic certifiers to issue the Bird Friendly label on organically certified coffees.

Ocean Wise Ocean Wise works directly with restaurants and markets, ensuring that they have the most current scientific information regarding seafood and helping them make ocean-friendly buying decisions. The Ocean Wise symbol appears on menus and display cases, making it easier for consumers to make environmentally friendly seafood choices.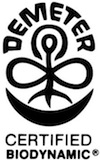 Demeter Biodynamic Demeter Biodynamic® is a certification indicating that biodynamic farming practices have been used. Biodynamic® farming is free of synthetic pesticides and fertilizers in the same manner as certified organic farming. Not only do they exclude the use of synthetic fertilizers and chemical plant protection agents in agricultural crop production, or artificial additives during processing, but also require very specific measures to strengthen the life processes in soil and foodstuffs. In order to qualify for Demeter Biodynamic® status a farm must first meet the same 3-year transition requirement that NOP certified organic farming requires. Because each farm is unique, it is not possible to apply "standardized" threshold levels to the spectrum of all farms involved with Demeter certification. Instead, Demeter certification approaches each farm as an individuality with its own beginning point and inherited environmental and social conditions
For more information or to locate more eco-labels for agriculture and food in North America, or around the world, visit EcoLabel Index.