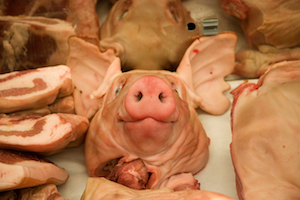 Tom Winterrowd, who farms near Canby, Oregon, said that the minute he saw the announcement for the hog head cooking class he knew he'd be in it. Portland Meat Collective recently offered the class, bringing in Ben Meyer, the chef at Grain and Gristle Restaurant as the instructor.
Winterrowd said he is always interested in learning more about producing his own food and has a goal of growing half of his diet. His experience with local food includes having raised pigs – as well as many other things – on his farm and serving on the Boards of the Oregon City Farmers Market and Oregon Sustainable Agriculture Land Trust.
Each participant was given the head of a hog that had been butchered just days before the Saturday class. Winterrowd said, "The jowls (or cheeks) are probably the best pieces of meat on the hog, but the whole head can be used. Even the ears are cooked." He continued, "When my hog head had been cooked, I had a pot of broth but couldn't get past the eyeball floating in it, so it went to my dogs. They loved it," Winterrowd said with a smile.
"The class helped people become aware of what could be done with an unfamiliar piece of meat. We all wanted to be better cooks." As the local food movement expands, people who buy locally processed meats have become interested in making use of the whole meat animal, learning how to cook less familiar cuts like hocks, heart, and head.
________________________________________
About Susan W. Clark
Susan W. Clark is a freelance writer and photographer focusing on sustainability. She lives on an organic farm near Canby, Oregon. Her blog, publication list, and clips are available here.
Photo credit: Derek Oyen, used with permission under Creative Commons license.