Folks,
The best part of GoodFood World is the stories I hear from friends, old and new. Anders and I met at about 10 years ago (I think it is…) and he dropped me a note to share a wonderful memory of a day with his daughter making bread. Here's his story.
Hi, Gail,
I'm just at home baking some banana bread substituting ingredients liberally, hell-bent on not going to the store.
I agree that food is one of the biggest pleasures in life – and a great way to express your love for fellow humans.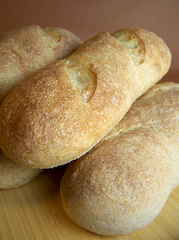 A memory just popped into my mind: I was with my now 24-year-old daughter Zoe in a YMCA Indian Princess group of six dads and six 8-year old girls – our daughters. We were deliberately trying to connect with our beloved offspring – what does a grown man have in common with 8-year-old girls anyway?
Well, a dad who was a food show producer at KIRO TV arranged a visit to La Pancanella Bakery on Capitol Hill where the proprietor, Ciro Pasciuto, had moved from the basement beneath the Mary Pang warehouse after a fire broke out and 4 unsuspecting fire fighters fell to their death through the rotten floor.
Pasciuto, a 40-something, central-Italian man with long dirty-blond hair reminiscent of Fabio's and who had arrived here by falling in love with a local Seattle woman, lined the girls around a simple table on the cold cement basement floor, then reached under the table to get a 5-gallon white paint bucket half full with bread dough.
He looked into the girls' eyes telling them that he would share a secret about making bread. The secret was that the most important ingredient in bread cannot be seen. The first ingredient has to be love.
You always have to start with love or the bread (or presumably any food) would not turn out as well or taste as good. As he cut each girl a piece of the dough he challenged them to always remember his secret.
Love is an attitude and a gratitude and what better way to show your love than through cooking, baking, or wine-making for your loved ones, or why not the whole humankind?
Thanks for sharing your secret with girls and dads alike, Sinore Pasciuto
Anders
Do you have memories (good or not so good) of food? Please email me; I'd love to share your story!
Gail
Photo credit: Back to the Cutting Board (