The Future of Food Conference brought together many of the world's leading experts on food, including Prince Charles, the Prince of Wales, a lifelong environmentalist and organic farmer; Eric Schlosser, author of "Fast Food Nation;" and Wendell Berry, winner of The National Humanities Medal.
Academics, NGOs and experts from some of world's biggest food companies discussed trends in agriculture and consumer behavior that is shaping the future of food.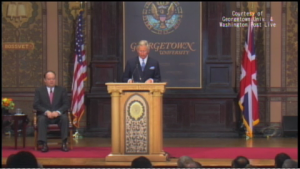 An archived selection of presentations is available here, including a video of Prince Charles' keynote.
Prince Charles in his speech discussed many of the problems currently facing food production and advocated for a swifter and more direct move toward more sustainable, or "durable," as he called it, systems. Pointing out the many dangers caused by an industrial farming system that depletes natural resources and impairs biodiversity, he argued that we cannot afford to continue operating under the current system for very much longer before it starts to fall apart. In order to foster the necessary change, the Prince said that agricultural policy, in the U.S. and around the developed world, needs a drastic overhaul in order to incentivize and reward farmers undertaking positive change. The current system actually penalizes farmers and food utilizing sustainable methods while paying huge sums of money to farmers who plant monocultures of corn and soybeans on every available strip of bare land, he said.
More about the conference at Beyond Pesticides, a coalition against the misuse of pesticides.
The speaker roster included:
Angela Glover Blackwell, Founder and Chief Executive Officer, PolicyLink
Debra Eschmeyer, Outreach Director, National Farm to School Network
Eric Schlosser, Author: Fast Food Nation
Fedele Bauccio, Co-founder Bon Appétit Management Company
Frederick L. Kirschenmann, President of Stone Barns Center for Food and Agriculture
Gary Hirshberg, Chairman, President, and CE-Yo of Stonyfield Farm
Greg Asbed, Co-Founder, Coalition of Immokalee Workers
Lucas Benitez, Co-Founder, Coalition of Immokalee Workers
Marion Nestle, Paulette Goddard Professor in the Department of Nutrition, Food Studies, and Public Health at New York University
Patrick Holden, Founder, The Sustainble Food Trust
Secretary Tom Vilsack, Secretary of the United States Department of Agriculture
Stephen McDonnell, Founder and CEO of Applegate Farms
Wendell Berry, Author
Will Allen, Founder and CEO of Growing Power Inc.
The Prince of Wales, The Prince of Wales is the Heir to the British Throne. He is a lifelong environmentalist, one of the world's foremost charitable entrepreneurs and an organic farmer.
Sen. Jon Tester, D-Montana
Vandana Shiva, Director, Navdanya
Wes Jackson, President, The Land Institute