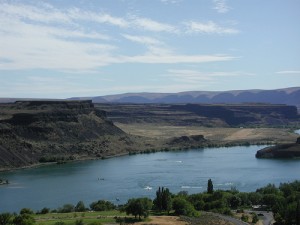 The sky is bright blue, the river is smooth as glass, and it's a beautiful sunny May day.
We're driving north on Highway 97, just east of the North Cascades. There is no doubt that this is the fruit basket of Washington.
Miles and miles of apple, pear, peach, cherry, and apricot trees march in military precision up the foothills.
A wet, cool spring has stalled the blooming and the trees are just now covered with tufts of white blossom.
It's also pretty clear that we're NOT in the heart of organic farming! We've passed a half a dozen tractors pulling barrels of spray and the drivers are fully suited in yellow haz-mat coveralls with helmets and gas masks.
No picnicking under blooming apple trees for us!
The Columbia River is a working river, with hydroelectric dams spaced down its length. Hydropower keeps the cost of electricity down and eliminates the environmental damage from coal or nuclear power plants.
Watch for our next post from Crown S Ranch in Winthrop, where we'll be surrounded by lambs, piglets, calves, kittens, and 800 new chicks. It's spring on the farm, folks!
Photo credit: blizsnowstorm, used with permission under Creative Commons license.