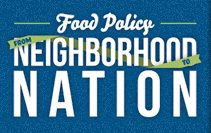 This past weekend I attended the sold-out first-ever national conference on local and state food policy organized by the Community Food Security Coalition. Six hundred food activists gathered together to communicate, coordinate, catalyze, conspire, and celebrate. At least those were the goals CFSC's executive Andy Fisher put forward at the beginning of the conference.
I came hoping to find ideas to bring back into my own rural community about food justice, food security, and food sovereignty issues.
The conference was held at the Doubletree Hotel in Portland, which Fisher called the "greenest hotel in Portland." I didn't see a single paper, styrofoam, or plastic cup or glass all weekend. The hotel served fresh pears and donated Clif bars as snacks, along with water, coffee, and fresh fruit juices. Much of the food they served for breakfast and lunch was locally sourced (Columbia River wild salmon, locally foraged mushrooms, local marionberries). They served no fried foods. Instead, we had steamed and roasted vegetables, steamed and baked scrambled eggs, poached salmon, Draper Valley chicken, and fruit. (One elected official from Montana joked, "Where's the beef?")
The conference was multi-tracked with working groups or workshop sessions every ninety minutes. So much was going on that it was difficult to choose. Every session was packed to the rafters. We heard success stories about creating food policy councils, urban gardens, and healthier corner stores.
Enlightened mayors were the heroes behind nearly every success story, either mayors who championed food justice programs or mayors who allowed their staff to go forward with food programs. The elected officials said they couldn't do anything without the support of activists. It was thrilling to find elected officials actively pursuing food issues without apology.
It was exciting to be surrounded by 600 people whose jobs enabled them to do food policy work. The hotel thrummed with conversations about food justice. Many of the speakers talked about food justice: Everyone is entitled to good, fair, healthy food no matter who they are, where they live, or how much money they have.
Despite all this wonderful activity, very little in the conference dealt with rural issues. I did attend the session on the Farm Bill, and my head was spinning when it was over. Understanding the Farm Bill and making changes in it is quite problematic, to say the least. I never found anyone who was just a Jill or Joe Public, like myself. Every person I met either worked for the government, an NGO, or was an elected official.
Most of our food is grown in the country, in rural areas, so my hope is that next year, some emphasis will be made on how to make food policy changes in rural areas where the elected officials and the public may not be as cognizant of food justice issues as those in the city.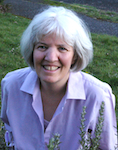 About Kim Antieau
Kim Antieau lives in the Columbia River Gorge in a small town in Washington state. She is finishing up a graduate certificate in Sustainable Food Systems and Permaculture Design from Antioch University in Seattle.
Kim is a novelist, researcher, activist, and librarian. Her most recent published novels are Ruby's Imagine and Church of the Old Mermaids. Not surprisingly, many of her novels revolve around food and community.
Visit her website at www.kimantieau.com.