Food sovereignty – the ability to have access to land and the right and freedom to grow (and keep) healthy and affordable food – is not a concept generally applied to citizens of the United States. However, women in many countries, like those in West Africa, have no legal right to own the land they farm or even to keep the food they grow on it.
Fatou Batta, Co-Coordinator for West Africa from Groundswell International, spoke recently in Seattle about the causes of food insecurity in Africa, particularly in Burkina Faso; the role of rural women in agricultural production and food security; the challenges rural West African women face; and some of the solutions they have developed.
Food security is more than just the cost of food; however, in many African countries, food costs are extremely high. In the east African country of Kenya, about 45% of a family's income goes for food. That number is only slightly lower in the west African countries of Cameroon and Nigeria, where food costs are 38-39% of a family's income. Contrast that with food costs here in the United States, where we spend less than 7% of our incomes on food.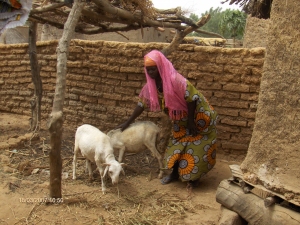 Despite efforts to reduce hunger and malnutrition, food insecurity remains a daily reality in countries like Burkina Faso. Contributing factors are low access to, and poor management of, water; degraded natural resources; inadequate roads and communication infrastructure; low income; poor access to credit, and poor education. A new threat comes from land grabs for cultivation of non-food crops or food crops for export.
In Africa, women are the primary link between production, consumption, and nutrition management for families and children. Women have become more responsible for agricultural production because men have had to leave the rural areas to seek work in cities. And during times of crisis women play a central role in household food production and food security.
In sub-Saharan Africa, women provide more than 50% of agricultural labor – the highest proportion in the world. In rural Burkina Faso more than 80% of the women are responsible for all farming activities. In some areas of western Burkina Faso, women must work to repay the dowry paid by their husbands, and to do so – and to feed their families – they have to cultivate highly degraded plots no longer useful for raising crops to be sold commercially.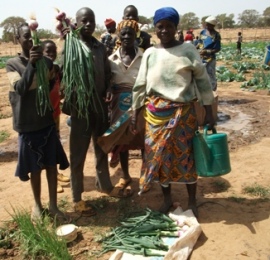 The UN Food and Agriculture Organization (FAO) reports that if women in rural areas had the same access to land, technology, financial services, education, and markets as men, it would be possible to increase agricultural production and reduce the numbers of hungry in the world by 100 to 150 million people.
Rural women also provide food-related, non-farming activities such as processing, preservation, and marketing of agricultural products. They are responsible for storage, transportation, distribution, and development of local markets.
Despite the importance of their roles, women farmers are not involved by policy makers and funding sources in decisions regarding rural development programs and policies. They have little access to training on technical and management issues and they are not able to access equipment and inputs that are intended for family farms, yet are controlled by the men of the household.
Clearly, development strategies to improve the food security of small rural producers in West Africa must include support for rural women. And, there are a number of African organizations, including regional and national networks, that are working to promote alternative solutions based on the experiences of African farmers and that are appropriate to the African context.
Previously published on GoodFood World: Food, First Hand in Cameroon
About Groundswell International
Groundswell International is a partnership of local NGOs and resource people in Latin America, Africa and Asia, coordinated by a global office based in the U.S., working to strengthen capacity for positive social change in rural communities. For more information visit www.groundswellinternational.org.
Photographs: Groundswell International