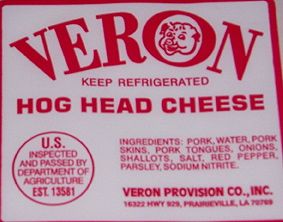 In August, 2010, a half million pounds of sausages and hog head cheese were pulled off Louisiana grocery shelves in a recall triggered by what the state Department of Agriculture and Forestry said were Listeria monocytogenes isolates detected in a product sample from Veron Foods.
Last summer's recall was the second for the company. In early 2007, about 290 pounds of head cheese products were recalled when federal testing identified Listeria contamination. No illnesses were reported connected to the product in 2007.
Fast forward to 2011, and the recall of 500,000 pounds of Veron meat products did not help the 14 people who were sickened from consumption of the products. Seven were hospitalized and two died from the contamination by Listeria.
Food Safety News reported the most recent recall and provided this description of hog head cheese:
Head cheese is not a cheese but a terrine or meat jelly made with flesh from the head of a calf or pig (sometimes a sheep or cow), and often set in aspic. While the parts used can vary, the brain, eyes and ears are often removed. The tongue, and sometimes even the feet and heart may be included. Head cheese may be flavored with onion, black pepper, allspice, bay leaf, salt, and vinegar. It is usually eaten cold or at room temperature as a luncheon meat. It can also be made from quality trimmings from pork and veal, adding gelatin to the stock as a binder.
Read more here:
Food Poisoning Attorney Says Deaths in Veron Hog Head Cheese Listeria Outbreak Preventable
Lethal Listeria Outbreak Tied to Hog Head Cheese
Where have I heard Louisiana Veron Hog Head Cheese and Listeria Before?