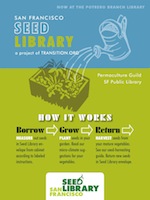 Libraries have been the centers of community life in towns and cities across the country since there have been public lending libraries. Lending libraries date from the mid-16th century and in 1850 the Public Libraries Act was passed in England which allowed cities to use taxes to create and maintain libraries but did not require that cities build them. The US passed a similar law at about the same time.
These libraries all had one thing in common – they lent books.
Now the San Francisco Public Library is launching a pilot program at the Potrero Branch of the public library where residents can "check out" seeds, borrow books, tap into databases, and find other information sources about urban gardening.
The process is simple: residents choose from a list of vegetable seeds available in the Seed Library collection, borrow them, and plant their seeds. After they have harvested their crops, they save the seeds from the heartiest and healthiest of their harvest and return the seeds to the same branch.
Over time, each San Francisco Seed Library branch will include a wide selection of seeds that are best suited to each micro-climate since that is where they have grown to maturity, responding to the local soil, climate, and plant/animal diversity.
GoodFood World spoke with Beverly Pitzer, San Francisco Permaculture Guild, to learn more about the program.
How did you come up with the idea of lending seeds at a public library?
Ania Moniuszko of the Transition San Francisco Initiating Group was really the innovating force. She saw Food Inc. and was becoming more aware of food issues and huge seed companies. Ania realized that the ability to grow our own food and propagate our own seeds is important.
The initial plan was to find a place to house the seed exchange where it would be accessible to the public in an existing infrastructure.
Ania and her husband were at a book signing by Novella Carpenter, a farmer and activist in Oakland CA. They began a conversation about the seed exchange and happened to connect with someone from the public library. The idea then got shopped around the library system and one of the newest branches, the Potrero Branch, stepped up to get involved.
You need to have something on the shelf to lend; where do the seeds come from?
The seeds came from several places. In the beginning, it started with a number of community members that had saved seeds from their own gardens. A number of organic seed companies donated seed to the library. We reached out to a number of seed exchanges – there are about 5 seed banks/libraries in northern California – and they have been very helpful to get us up and running with seeds for the inventory.
For those other seed banks will you help replenish their seed stock? Will some of what you have go back to them?
We'd love that, absolutely!
People are to "check out" seeds, grow them, harvest them, and bring back the equivalent or more seeds to the bank. Are you asking people to insure that they bring back what they took? How do you hope to keep the seed stock pure?
I think it will evolve; it will rely on people's good will. We certainly don't want the seed library to be tainted with seeds contaminated with GMOs, for example. I'm glad you asked about it. We don't have the answer yet, but it is something we need to think about. We know we will have to put energy into educating people on how to grow the seed, harvest it and save it in an urban setting.
The concept of a library being a community resource and lending more things than books is fascinating. It's a community center with tools to track incoming and outgoing items. Will the library be lending other things?
I don't work for the public library, but there are libraries in the Bay area that are talking about lending things like garden tools.
Do you anticipate that the seed-lending program will expand through other libraries?
Yes, there are others in the initial stages; one of which may be in another branch of the public library. More are "germinating," if you will. We hope to see one in each neighborhood  so that the seeds are from the local micro climate.
Will you be building a "garden education" program around this?
We are. There's a lot of good knowledge already out there, so we don't have to reinvent everything. We hope to add to the knowledge base; we've already got two classes set up in June and September this year.
As people check out seeds they will get instructions, and we're hoping to add videos to Facebook and YouTube for people to access. Perhaps even a mentoring program…
Richmond Grows, Richmond CA, has done a lot of great work around curriculum and content. We need to acknowledge them as pioneers in this space.
The intersection of the public library as a community center with the traditional action of seed saving is very exciting. At GoodFood World, we hope to see grassroots projects like this take root – pun intended – across the country!