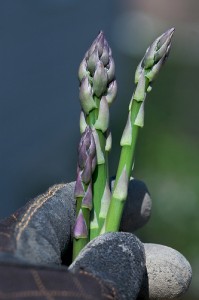 One of the true signs of spring is fresh LOCAL asparagus!
We've lost touch with the seasonality of food thanks to our ability to buy vegetables like asparagus year 'round in most supermarkets.
While not all of us can run out to the garden and snip off a few asparagus shoots as the water is coming to a boil, but buying locally grown is as close as most of us can get.
Unlike most of the vegetables we eat in North America, asparagus is a perennial. We harvest and eat the early shoots and buds for about 8 weeks and then let the plants go to flower and then to seed.
Not only is fresh spring asparagus available for such a short time, it must be eaten soon after cutting. Small shoots get "floppy" and larger ones begin to dry out.
Asparagus comes in three colors: purple, green and white. The white version is grown with the soil built up around it as the shoots grow and then covered when they break through the soil, to prevent the sun from activating the chlorophyll and turning the shoots green.
Spring in Germany, means having spargel (asparagus) three meals a day. At least it seemed like that to me when I arrived in there during asparagus season. A traditional plate consists of boiled potatoes and boiled asparagus with lots of butter.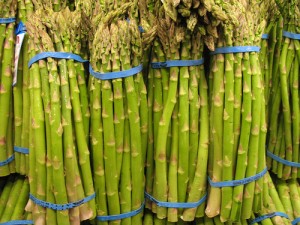 The asparagus we buy for our household here in Puget Sound is grown about 4 hours away in the Yakima Valley, south central Washington, on Inaba Produce Farms.
In 1907, Shukichi Inaba and his brother came from Japan, cleared the land of sagebrush and with techniques learned in Japan, began cultivating crops on 120 acres leased from the Yakima Tribe. Today, the third generation, Lon, Wayne, and Norm Inaba, is farming using sustainable practices very much like their grandfather and grand-uncle used.
The Alien Land Law of 1920 prevented Japanese immigrants from owning or leasing land, so the Inabas had to give up their land leases and become sharecroppers until American-born family members were old enough to buy or lease land. During the 20s and 30s the family prospered and continued to farm more land.
The farm grew until the Inabas and other Japanese American citizens were interned in camps, like that at Heart Mountain, Wyoming, during World War II. Once again, after decades of hard work, the family was set back.
After the war, the Inabas began yet again by buying the farm's first 40 acres in 1954. The Inaba Produce Farm consists of nearly 1500 acres today – 1000 acres are leased tribe lands – and one-third of the farm is certified organic.
Perhaps asparagus is an appropriate symbol for farmers like the Inabas. Every year the new shoots are cut back and every year the plant grows and renews again.
In Puget Sound, Inaba asparagus is available at the 9 PCC Natural Markets.
More about Inaba Produce Farms
Inaba Produce Farms – A kind and gentle approach to produce production
Inaba Produce Farms – Sustainable Northwest
Inaba Produce Farms – PCC Natural Markets

Photo credits: Harvesting asparagus – Chiot's Run, Asparagus bunches – Dowbiggin, used with permission under Creative Commons license.